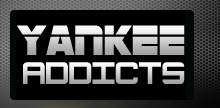 February 9, 2012 · Harold Friend · Jump to comments
Article Source: Bleacher Report - New York Yankees
Alex Rodriguez is the greatest third baseman in New York Yankees history.
He has hit more home runs in a single season that any Yankees right-handed batter, has won two MVP Awards, led the league in home runs twice as a Yankee and played on a world championship team.
A-Rod has been with the Yankees since 2004. During that span, he has averaged a line of .295/.391/.550 with 41 home runs and 131 RBI over a 162-game season.
Based on games played, Rodriguez has averaged 36 home runs and 113 RBI.
Many fans do not appreciate A-Rod. After he retires, how many mothers, when telling their daughters about him, will add, "Yes, and by the way, A-Rod admitted using performance enhancing substances before he became a Yankee."
A-Rod was once on his way to becoming the second greatest shortstop in baseball history (after Honus Wagner) before he moved to third base. The Yankees brass thought that the clubhouse and the team on the field would be more effective if Derek Jeter remained as shortstop.
Excellence should be rewarded. Too often, those who excel in activities that don't benefit society reap huge rewards. The following is a small sample of some individuals whose compensation exceeds that of Alex Rodriguez:
Gary D. Cohn, President and Chief Operating Officer Goldman Sachs $72.5 million.
Lloyd C. Blankfein Chairman and CEO Goldman Sachs $70.3 million.
David A. Viniar Chief Financial Officer Goldman Sachs $58.5 million.
Alex Rodriguez has brought joy, thrills, excitement, purpose, frustration and heartache to the American public. Goldman Sachs has brought primarily heartache.
When A-Rod was a mere lad of seven, he joined the Boys and Girls Club of Miami. Many years later, in 1998, Rodriguez was instrumental in creating the "Alex Rodriguez Evening with the All-Stars" benefit. More than half a million dollars has been raised since its inception.
In Jan. 2010, the Alex Rodriguez Educational Center at the Boys & Girls Clubs of Miami-Dade's Hank Kline Facility opened. The $1.5 million center has two technology laboratories, an area for internet use, classrooms, a teen center and homework-study areas.
In 2011, knee problems hampered A-Rod, resulting in a sub-par season. In late December, it was revealed that he had gone to Germany for an experimental treatment for his right knee and left shoulder. The Yankees approved the action, which Kobe Bryant had recommended to Rodriguez after he reported the treatment helped him.
"Kobe had maintained, according to Alex, that he felt significantly better because of it," Brian Cashman said, "Alex was interested in pursuing it as long as the Yankees' medical staff was comfortable with it and vetted the process. He basically asked us to look into it."
Alex Rodriguez in no ordinary player. He is healthier than he has been in a number of years. The Yankees, and especially A-Rod, are driven to win the 2012 World Series.
During this offseason, one couldn't help but get the feeling that this Yankees team has a drive to win that is similar to the drive that David Cone, Derek Jeter, Tino Martinez and Mariano Rivera had after the 1997 season.
One can understand why fans of rival teams aren't fond of Rodriguez. He beats them, which is why Yankees fans should love him.
Read more New York Yankees news on BleacherReport.com