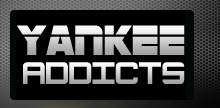 October 1, 2011 · Joseph Browne · Jump to comments
Article Source: Bleacher Report - New York Yankees
All season long, Yankee followers have been bombarded by story after story bemoaning the lack of starting depth behind C.C. Sabathia. The reason? Well, the Yankees don't really have that much starting depth behind C.C. Sabathia. With that said, though, they do have a potential wild card in Ivan Nova, the young righty who passed a number of more high-profile Yankee pitching prospects, and a few veterans as well, on his way to the second slot in the Yankees rotation.
Nova was, of course, slated to pitch Game 2 today, but Game 2 today is actually Game 1 from yesterday due to a rainstorm that resulted in the delay/cancellation of Game 1. If you ask who's on first right about now it would be completely understood. Regardless, Nova is going today in what we'll call Game 1.5, and here are four reasons why he will absolutely crush the Detroit Tigers' lineup.