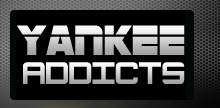 October 15, 2010 · Adam Bernacchio · Jump to comments
Article Source: Bleacher Report - New York Yankees
The Texas Rangers have played the New York Yankees three times in the postseason and won a grand total of one game. The Rangers played the Yankees in the 1996, 1998 and 1999 ALDS and went 1-9 in those games.
They are hoping for better results this time around. Let's take a look at the 2010 American League Championship Series…
Schedule
Game 1: Friday, October 15 at 8:00 PM est. CC Sabathia vs. CJ Wilson
Game 2: Saturday, October 16 at 4:00 PM est. Phil Hughes vs. Colby Lewis
Game 3: Monday, October 18 at 8:00 PM est. Cliff Lee vs. Andy Pettitte
Game 4: Tuesday, October 19 at 8:00 PM est. Tommy Hunter vs. AJ Burnett
*Game 5: Wednesday, October 20 at 4:00 PM est. TBD vs. TBD
*Game 6: Friday, October 22 at 8:00 PM est. TBD vs. TBD
*Game 7: Saturday, October 23 at 8:00 PM est. TBD vs. TBD
*Denotes If Necessary
Season Series
Tied 4-4
Prediction
Things have shaped up very nicely for the Yankees so far. They got to play the Minnesota Twins in the ALDS, a team they have some sort of Jedi power over, and now they get to play the Rangers in the ALCS and won't have to see Cliff Lee until Game 3 of the series.
While everyone seems to be making a big deal of Lee not starting until Game 3, I don't feel it's that big of a deal. This is a seven game series, not a five game series.
Even if Lee started Game 2, he would still only make two starts in this series. Someone other than him would still have to win two games. That's why I feel CJ Wilson, Tommy Hunter and Colby Lewis are the keys to this series.
Which one of these guys is going to win a game besides Lee in this series? And which one of these guys is going to step up if Lee doesn't win Game 3?
Wilson, who will start Game 1, was 0-1 and gave up 18 hits and had a 5.65 ERA in three starts against the Yankees in 2010. He only pitched 14.1 innings in those three starts.
Lewis has a shot in Game 2. He pitches well at home. I don't have much hope for Hunter at Yankee Stadium in Game 4.
My biggest concern with the Rangers is their bullpen. It's not outs 25,26 and 27 I am so much concerned about, but it's outs 18-24 I am concerned about.
I like Darren O'Day against Derek Jeter and Alex Rodriguez, but the Yankees have so many switch-hitters and lefties in their lineup that it comes down to does Ron Washington want a guy who throws sidearm, and whose ball goes down and in to a lefty, pitching to Mark Teixeira with a short porch in righfield?
Let's say O'Day does get through the seventh and Jeter and ARod. Who is pitching that eighth inning? Darren Oliver against Robinson Cano, Jorge Posada, and Curtis Granderson is the most likely matchup.
Does any Ranger fan feel comfortable in that spot? I wouldn't. I have seen how that movie ends.
The key, offensively, for the Rangers will be Josh Hamilton. There is no way the Rangers can win this series with Hamilton hitting .111 like he did in the ALDS.
Ian Kinsler and Nelson Cruz come in red hot for the Rangers.
As for the Yankees, I like the way they are playing. What makes them very tough right now is that they are getting so much production from the bottom of the lineup. Granderson is on fire and when the Yankees get production from guys like Marcus Thames, then it's good night nurse.
Where the Yankees have the clear advantage in this series is in the bullpen. As long as Mariano Rivera is in a Yankee uniform, the game is an eight inning game.
Kerry Wood is pitching better now than he has in maybe five-to-six years. And if Boone Logan continues to get lefties out, this bullpen becomes very tough. Logan vs. Hamilton is the matchup to watch in this series.
The one thing that concerns me about the Yankees is that Lee is already in their heads. The fact that Joe Girardi is starting Andy Pettitte in Game 3 to face Lee instead of his customary Game 2 start is a very odd decision.
Any time a team starts taking away from their strength to match another team's strength, is a bad sign. This isn't as egregious as Avery Johnson going small when the Dallas Mavericks played the Golden State Warriors in the first round of the 2007 NBA Playoffs, but it's not too far behind.
When I think of the Yankee playoff runs, I think of Pettitte pitching Game 2. That's his game. Of course Girardi will give you the whole Phil Hughes pitches well at Texas, which he does (2-0 with a 0.00 ERA and a 0.46 WHIP in three career starts), but I don't buy it.
I am very torn on this series. My gut tells me the Yankees will find a way. My gut tells me that AJ Burnett, in classic Yankee fashion, pitches seven innings of two-run ball in Game 4, while Lee lasts only four innings because it magically rains in the fourth inning in the Bronx and there is a two hour rain delay.
I have lost 10 lbs in the last month, so my gut isn't as big as it used to be.
Rangers in 7
You can follow The Ghost of Moonlight Graham on Twitter @ theghostofmlg
Read more New York Yankees news on BleacherReport.com