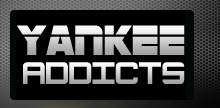 October 21, 2010 · Double G Sports · Jump to comments
Article Source: Bleacher Report - New York Yankees
The bats finally woke up for the New York Yankees last night. CC Sabathia stepped up like any ace should, battling through six innings and giving his team the lead.
Staring elimination in the eye, the Yankees used their bats and took advantage of some sloppy play by the Texas Rangers to force a Game 6. The series now returns to Texas with the Rangers holding a three games to two lead in this best of seven series.
In order to defend last seasons world series title, the Yankees will need to win the final two games in Texas, starting Friday night. One step at a time though.
Before a big matchup between Cliff Lee and Andy Pettitte in Game 7, the Yankees will need to win Game 6 behind Phil Hughes. Hughes was roughed up in Game 2, also played in Texas.
Early in the series, the Yankees bats had been silenced by the Rangers pitchers. Robinson Cano had really been the only hot hitter.
Last night, some others woke up a bit. With a three run lead in the third inning, Nick Swisher and Robinson Cano hit back-to-back home runs to give Sabathia a 5-0 lead. Seven of the nine Yankees in the lineup had at least one hit. The team totalled nine on the night.
Read full article at Double G Sports.
Read more New York Yankees news on BleacherReport.com