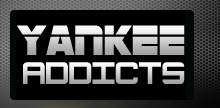 October 20, 2010 · Adam Bernacchio · Jump to comments
Article Source: Bleacher Report - New York Yankees
I remember back in the day I was sitting in the dugout during one of my summer league games and after we scored a run on only one hit in an inning because the opposing pitcher walked three guys, my coach turned to me in while I was standing in the on-deck circle and said to me "Oh those bases on balls. They'll bite you in the ass every time."
No matter what level of baseball you are in or even watch, that premise holds true no matter what. If a pitcher keeps giving free passes and doesn't make the opposing team earn it as they say, those free passes will usually come back to haunt him.
Texas Rangers' pitcher C.J. Wilson found that out in Game 5 of the ALCS.
Wilson, who led the American League in walks with 93 during the regular season found out that most pitchers don't get away with walking guys in the postseason. Wilson walked four in just five innings, included two crucial walks in the second inning as the New York Yankees beat him and the rest of the Rangers 7-2 to force a Game 6 on Friday night.
Of the four walks, three of them weren't intentional and all three non-intentional walks scored. Ranger pitchers not named Cliff Lee have been pretty liberal with free passes through the first four games and those walks finally came back to haunt them in Game 5.
In the top of the second, Wilson walked Alex Rodriguez to start the inning and then Lance Berkman with one out. Jorge Posada singled home ARod and Curtis Granderson singled home Berkman when the Rangers decided to turn into the Bad News Bears.
On the single, Jeff Francoeur threw the ball away trying to nail Berkman at third and then when Wilson caught the ball backing up third, he threw the ball about 10 feet over catcher Matt Treanor's head to allow both Berkman and Posada to score. It was a clown show.
The Yankees scored three runs that inning and that set the tone for the entire game. Once the Yankees got a 3-0 lead there was no way they were losing this game.
And they really weren't losing this game when Nick Swisher and Robinson Cano went back-to-back in the bottom of the third. That all but guaranteed this series was going back to Arlington.
Here are some other observations from Game 5…
CC Sabathia once again was very mediocre. The difference between Sabathia in Game 1 and Sabathia in Game 2? The Rangers never came up with the big hit.
The Rangers had 11 hits but could never get that big one. As Ron Washington said after the game "We had Sabathia bended. He didn't break."
The Rangers became the first team in 90 years to have 13 plus hits in a playoff game and score less than three runs.
With his fourth HR of the ALCS, Cano tied Josh Hamilton (2010), Evan Longoria (2008), B.J. Upton (2008), and Jim Thome (1998) for most HR's in ALCS history.
When Berkman hit the ground chasing after that foul ball, I thought he would be down for the 10-count. He hit his head hard.
Nelson Cruz left this game with a hamstring injury. From everything we have heard so far, it doesn't appear to be serious and he should be able to play in Game 6.
Since when did Kerry Wood develop the most lethal pickoff move in the game?
The fact that Elvis Andrus got picked off at second, down by four, and with Hamilton at the plate is beyond inexcusable. There is a difference between being aggressive and being a buffoon.
The more I watch Mitch Moreland this series, the more I think he is going to be a good one. Not too many hitters can battle Mariano Rivera like that in the ninth inning.
Alexi "The Ogando Giant." That's my nickname for him. I would pay big money to see him slap his stomach like Kamala did after every strike out.
It took Michael Kirkman 50 pitches to get through two innings. Watching him was like watching the last yard of the longest mile. Just painful.
Game 6 should be very interesting. Phil Hughes was awful in Game 2 and while Colby Lewis might have only given up two runs in 5.2 IP, he got very lucky that game. The Yankees hit some shots off him that were right at people.
I thought the Rangers would win in seven before the series and I am sticking with it. I think the Yankees will win Game 6 and Lee will close it out for the Rangers.
You can follow The Ghost of Moonlight Graham on Twitter @ theghostofmlg
Read more New York Yankees news on BleacherReport.com