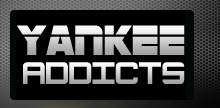 October 18, 2010 · Dan Hanzus · Jump to comments
Article Source: Bleacher Report - New York Yankees
Let's face it: The Yankees are very fortunate they're not preparing to face Cliff Lee tonight trying to avoid a 3-0 hole in the ALCS.
That reality wasn't far off. If you want to break it down, you could say the Yankees were outplayed in 16 of the 18 innings in Arlington. Luckily, the two innings New York had the upper hand were the last two in Game 1's unlikely comeback.
Now they face the much bally-hooed Lee, who it seems has been preordained for glory before he ever steps on the mound at Yankee Stadium.
Never mind the fact that the Yankees have actually had some success against the left-hander (including last year in the World Series), or that New York counters with one of the best postseason pitchers who ever lived.
Oh right. Andy Pettitte. People always seem to forget about Andy Pettitte. For those a little murky on the subject, here's a quick refresher:
240 career victories
Five World Series rings
Won clinching game in all three rounds of 2009 postseason
Went 11-3 with a 3.28 ERA in 2010 regular season
Has 19 postseason wins
Pitched seven strong innings in ALDS victory over Twins
Recently completed a well-documented journey to comfort
Allowed two runs in eight innings to beat Texas in April
Is 7-1 in 11 career ALCS starts
The way the Yankees' chances in this game are being described, you'd think Melido Perez was getting a spot start. Don't sleep on the type of competitor Pettitte is, either. You think he hasn't noticed how the media has fawned over Lee and crowned him as the best left-hander since Sandy Freaking Koufax?
I don't doubt that Lee will pitch well tonight. Just don't be surprised if this becomes a battle of the bullpens, where both starters do their jobs well and we head to the eighth inning with a 2-2 game.
I think that's more likely than the current populace prediction: Lee channels Steve Nebraska in The Scout, strikes out 27 straight on 81 pitches, hits two homers, cures A.I.D.S. then opens a successful chain of T.G.I. Friday's restaurants around greater Dallas.
I think all that happened in The Scout. I tend not to see Brendan Fraser movies more than once, unless that movie is called Encino Man.
My friend Howie is a season ticket holder who also doubles as the most pessimistic Yankee fan alive. I'm usually talking him off the ledge — he famously declared the 2009 Yanks dead in May, and had he been around in the 1920s, he would have railed against Babe Ruth's lack of closing speed on balls hit in the gap. But I can't argue with his theory that New York needs to take two out of three in the Bronx to have any chance here.
Going down 3-2 just seems a steep hill to climb with the starting pitching being as suspect as it has been. Even CC Sabathia has dropped down to "show me" status until he can put together seven or eight strong innings.
Joe Torre always said that Game 3 was the most important game of any playoff series. I'm inclined to agree. Are the Yankees done if they can't beat Lee and the Rangers tonight? Nah. But a sense of dread will certainly start to creep into the proceedings.
Stray thoughts:
I mentioned this during my live blog, but it's worth bringing up again. Mark Teixeira is now a .183 (15-for-82) hitter in the postseason as a member of the New York Yankees. I'm no face and body language expert, but it appears Teixeira's head might explode if he gets any tighter at the plate. Relax T-800. Relax.
His final two at-bats on Saturday aside, Robinson Cano looks locked in right now. I expect more big things from him tonight. No left-handed hitter had more homers off lefties than Cano in '10. Cliff Lee throws with his left arm. This is literary device called foreshadowing.
Among pitchers not named Mariano, I don't think I trust any reliever in the Yankees bullpen more than David Robertson. Joe Girardi seems set in the idea of Kerry Wood as the eighth-inning guy right now, however. I'm still uneasy about this.
Regarding Cliff Lee and the Stuff On His Hat: I'm going to assume he's a cheater and a liar and a crook until it's proved otherwise. And what about his last name? Am I supposed to believe it's really Lee? I think there's some Don Draper/Dick Whitman stuff going on here.
Dan Hanzus writes the Yankees blog River & Sunset and can be reached at dhanzus@gmail.com. Follow Dan on Twitter @danhanzus.
Read more New York Yankees news on BleacherReport.com