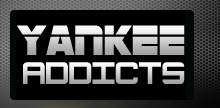 October 19, 2010 · Dan Hanzus · Jump to comments
Article Source: Bleacher Report - New York Yankees
There's no way you can take away from what Cliff Lee did last night.
Trust me, I'd love to. I wish I could say it had something to do with his "magic" hat, a pact with Satan, or some potent HGH cocktail guzzled before first pitch, but I just can't.
It was, quite truly, one of the greatest pitching performances in postseason history. Eight innings, no runs, two singles, one walk, 13 strikeouts. I can't ever remember a Yankee team being quite so dominated. I'm not so sure he wouldn't have thrown 16 scoreless innings had he been asked to.
But as brilliant as Lee was, there's no denying that something is going on with the Yankees' offense right now. Throw out the eighth inning of Game 1, and New York has scored an almost unthinkable three runs in 26 innings against the Texas Rangers.
The Texas Rangers. The Texas Rangers! With all due respect to C.J. Wilson, Colby Lewis, and Lee, Maddux-Glavine-Smoltz they are not.
There are culprits up and down the lineup right now. Derek Jeter (3-for-13) is doing himself no favors in his last gasp contract push. Nick Swisher (1-for-11) had a great 11-pitch at-bat against Lee last night, but his postseason struggles march on. Mark Teixeira (1-for-11), just as he was last October, looks completely lost. Alex Rodriguez (2-for-13) has had some good swings, but not much to show for it. Jorge Posada (2-for-10) has looked every bit like a 39-year-old catcher whose mind is predisposed on how many bases will be stolen on him the following inning.
The Yankees are hitting .194 as a team through three games. When you remember that their starters were bombed in both Game 1 and Game 2, it's a minor miracle this series isn't already over at 3-0.
If the Yankees go on to lose the ALCS, something tells me GM Brian Cashman will take a lot of heat for not sealing the deal to acquire Lee back in July. But the criticism Cashman may receive will pale in comparison to the heat Joe Girardi will take if A.J. Burnett gets bombed tonight in Game 4.
It's funny how this has played out. I think every Yankee fan knew in the back of his or her mind that Burnett would end up being counted on at some point in this postseason.
That time has arrived. It's a terrifying, bone chilling, vomit-inducing thought, but Girardi has decided he rather give his struggling right-hander the shot rather than put his other starters on short rest.
It's a massive gamble for sure. A potential season-wrecker is another way to put it. Take off your pinstripes, put on a sweatsuit, matching Nikes and drink the red kool-aid is another way to say it.
Part of me thinks this wouldn't be happening if CC Sabathia hadn't suddenly become a question mark these past two weeks. It could be that tiny bit of faith Girardi has lost in his ace that has led to Burnett getting his shot here.
Still, I'm surprised. It was recently as Friday night that ESPN's Buster Olney reported that after an awful simulated game performance (two hit batters, one ball thrown back to the screen), the Yankees would do everything in their power to avoid using Burnett.
That philosophy has obviously changed now.
I'll leave you with some optimism here: A little less than a year ago, Cliff Lee dominated New York at Yankee Stadium to give his team, then the Phillies, a huge upper hand in a best-of-seven series.
The starter the next night for the Yanks was none other than Allan James Burnett. I remember needing to drink heavily before first pitch armed with the knowledge that another shaky Burnett outing would likely blow up my season.
You all remember what happened. Burnett was awesome, striking out nine over seven innings in a 3-1 Yankee win.
I bring this up not to make you feel good about tonight's game, because I know that's kind of impossible. But remember that as horrible as Burnett has been, he still has the physical capability to excel in a big spot. It's what makes him so maddening.
Now if you'll excuse me, I have to buy out all the vodka within a seven-mile radius.
Stray thoughts:
A big River & Sunset pat on the back is in store for Andy Pettitte, who other than one bad pitch to Josh Hamilton, was everything you could have asked for. A shame the offense couldn't back up the old man.
A big River & Sunset whuck is in store for David Robertson, who got his brains beat in hours after I had waxed poetic about how he, not Kerry Wood, should be the eighth-inning guy. Thanks pal.
From my buddy Howie (@howardblu) via SI.com's Tom Verducci: Burnett hasn't pitched in 17 days, hasn't won a game in 49 days and hasn't beaten a winning team in 147 days. New York is 2-10 in games Burnett has pitched since August. This season in four starts with six or more days of rest, Burnett was 0-2 with a 9.25 ERA. In other words, get out the perfect game celebration bubbly!

Back to Pettitte, SI.com's Jon Heyman tweeted today that Yankee officials are said to be unsure if No. 46 will retire or come back in '11. I say there's no way he quits yet.
The Chicago Cubs have hired a new manager, and it's not Joe Girardi. Interim manager Mike Quade was given the gig full-time today. I suppose this hurts Girardi in terms of leverage with Yankees, though I'm sure they'll get something done assuming he wants to come back. He still looks pretty miserable to me.
Melky Cabrera was released by the Braves. Do I smell a Robbie-Melky glowstick reunion on the horizon?!?
Dan Hanzus writes the Yankees blog River & Sunset and can be reached at dhanzus@gmail.com. Follow Dan on Twitter @danhanzus.
Read more New York Yankees news on BleacherReport.com