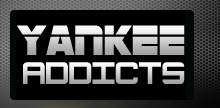 October 16, 2010 · Kate Conroy · Jump to comments
Article Source: Bleacher Report - New York Yankees
By the end of the six innings, the New York Yankees were down 5-0 to the Texas Rangers.
Yankees ace CC Sabathia had to exit after the fourth; his shortest outing of the season.
On the other end, Rangers starter CJ Wilson was shutting down the deep New York line-up. Wilson gave up a homerun to Robbie Cano to start the seventh, but retired the next three and the held the Yankees to a 5-1 score.
Wilson had been terrific and more, but at the start of the eighth inning he gave up two hits, one an RBI to Derek Jeter and Skipper Ron Washington had seen enough.
Washington move seemed logical, actually very Joe Girardi-esque as he pulled Wilson and went to the Rangers bullpen. The first of four relievers that followed couldn't get one out and by the bottom of the eighth the Yankees were up 6-5.
Kerry Wood and Mariano Rivera finished off the remaining six Rangers for the win.
Playing musical pitchers with the bullpen is very familiar to Yankees fans and it can be frustrating to watch when things just get worse.
Washington could have left Wilson in through the eighth inning, but it wasn't a totally off-base call. Not starting Cliff Lee in Game One is what made no sense to me.
Washington made public statements regarding how tough a team the Yankees are and how hard the Rangers had were ready to play. Winning game one would have given the Rangers some legs to stand on, both athletically and mentally.
That is why starting Lee seemed so obvious, as coming at the Yankees swinging from the start would make an immediate impact.
Instead, the Rangers lost the game 6-5 and got a little reality check at the same time.
Playing all nine innings of a game is something Yankee players remind each other to do. That 'never giving-up' attitude has really taken a life of it's own and why other teams haven't incorporated this motto is beyond me.
It was an awesome win for the Yankees, who couldn't have dreamed a more extraordinary way to open up the ALCS.
Game two starts at 4pm on Saturday, in the same place, with the same teams, but Yankees fans are hoping it will be the same results too.
Read more New York Yankees news on BleacherReport.com