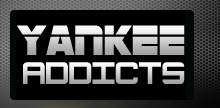 October 15, 2010 · Bronx Baseball Daily · Jump to comments
Article Source: Bleacher Report - New York Yankees
Tonight's pitching showdown is between two lefties CC Sabathia vs. C.J. Wilson. One is a big hefty ace of the staff and the other is comparably smaller and doesn't have the resume of Sabathia, but has done a great job in 2010. Sabathia is known for leading the league in wins this season and Wilson for successfully converting from a reliever back to a starter and leading the league in walks. On to the stats.
2010 numbers:
Sabathia: 34 G, 21-7 record, 237.2 IP, 3.18 ERA, 1.19 WHIP
Wilson: 33 G, 15-8 record, 204 IP, 3.35 ERA, 1.25 WHIP
Career numbers vs. respective teams:
Sabathia: 14 G, 8-3 record, 86 IP, 4.29 ERA, 1.42 WHIP
Wilson: 20 G, 3 GS, 0-3 record, 39.1 IP, 4.12 ERA, 1.42 WHIP
Numbers vs. respective teams in 2010:
Sabathia: 1 G, 1-0 record, 6 IP, 1.50 ERA, 0.50 WHIP
Wilson: 3 G, 0-1 record, 14.1 IP, 5.65 ERA, 1.88 WHIP
2010 Home/Road splits:
Sabathia on the road: 18 G, 10-5 record, 126.2 IP, 3.34 ERA, 1.26 WHIP
Wilson at home: 19 G, 11-3 record, 114.1 IP, 3.70 ERA, 1.26 WHIP
Career playoff numbers:
Sabathia: 11 G, 6-4 record, 67.1 IP, 4.41 ERA, 1.49 WHIP
Wilson: 1 G, 1-0 record, 6.1 IP, 0.00 ERA, 0.63 WHIP
Key matchups vs. Sabathia:
Michael Young: 12-for-38 (.316) with 4 2B and a .746 OPS
Josh Hamilton: 1-for-10 (.100) with 1 2B, 3 BB, 4 K and a .508 OPS
Ian Kinsler: 2-for-9 (.222) with 2 HR, 1 BB, 0 K and a 1.189 OPS
Key matchups vs. Wilson:
Nick Swisher: 6-for-20 ( .300) with 3 2B, 1 HR, 4 BB, 6 K and a 1.017 OPS
Derek Jeter: 5-for-14 (.357) with 1 HR, 3 BB, 5 K and a 1.042 OPS
Alex Rodriguez: 1-for-13 (.077) with 1 2B, 4 BB, 3 K and a .522 OPS
Brett Gardner and Curtis Granderson are a combined 0-for-11 with 5 K's
Austin Kearns: 3-for-7 (.429) with 1 2B, 1 BB, 2 K and a 1.071 OPS
Related Stories
Read more New York Yankees news on BleacherReport.com