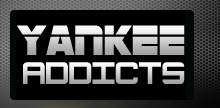 October 15, 2010 · Dan Hanzus · Jump to comments
Article Source: Bleacher Report - New York Yankees
I'm so sick of Cliff Lee.
It's nothing personal against the guy, and I'm choosing my words carefully here, since he's probably going to pitch every fifth day for my team next season.
But the three days separating the end of the ALDS and tonight's ALCS opener has spawned a level of hero worship not seen since Sully defeated the seagulls.
It's literally all people can talk about. Roy Halladay throws a perfect game? Who cares. Tim Lincecum strikes out 14 (probably while high)? Big deal. Cliff Lee mows down a pathetic Rays offense twice? American hero.
You could tell the Yankees were sick of hearing about Lee this week, too. The Rangers ace was the main line of questioning for the first two days of workouts at the Stadium, this despite the fact that New York won't see the left-hander until Game 3.
"Cliff Lee is a great pitcher, but all we're worried about right now is Game 1."
I usually get frustrated when players fall back on stock answers like this, but in this case, what other answer could they give?
"Cliff Lee is the best pitcher ever. We're not even thinking about the first two games of this pennant-deciding series because we can't stop thinking about how easily Cliff Lee is going to defeat us next Monday. Us guys in the clubhouse actually started the #cliffleefacts Twitter hashtag. He's hot, too."
That doesn't make sense, right? Well, especially the last part.
I'll get into more when Lee's turn actually does come up, but the reality is that the Yankees have had some success against him. Everyone knows about his dominant performance in Game 1 of the World Series last year, but few mention Game 5, when he allowed five runs over seven innings.
To quote Duke from Rocky IV: "He's not a machine, he's a man, he's a man!"
As the Yankee Haters amongst you have no doubt told you, this postseason has broken just right for New York thus far.
I love all the ridiculous grassy knoll theories that Joe Girardi tanked the end of the regular season so the Yankees would miss Lee and the Rangers in the ALDS. To me, it was simply a fortuitous twist of fate, like when you blew the opportunity to hook up with the hottest chick at the office Christmas party only to find out later she has a vicious strain of herpes.
The Rangers and Rays going five games obviously helped the Yankees as well. The fruits of this good fortune is immediate: In tonight's matchup, CC Sabathia meets not his friend Lee, but C.J. Wilson.
Wilson is a left-hander coming off a breakout season in 2010, two facts that lead you to believe he should have success on Friday night. But his splits tell the story of a pitcher that excelled against most teams, but not against the Yankees.
Wilson was winless in three starts against New York, pitching to a 5.65 ERA over 14 1/3 innings. The Yankees batted .300 as a team against him.
Then you have Sabathia, who received some good fortune himself in the opening round of the playoffs. The lefty wasn't sharp against the Twins, but still got the win when teammates rallied off Francisco Liriano in the seventh inning.
The Yankees need Sabathia to revert back to form on Friday. When he's at the top of his game, Sabathia is every bit the pitcher that Lee is, possibly even better. Sabathia proved that at this time last year, when he won twice against the Angels in picking up the ALCS MVP.
Every Game 1 is important, but in a series that seems too close to call, this Game 1 means even more. Time for the big man to stand and deliver.
Dan Hanzus writes the Yankees blog River & Sunset and can be reached at dhanzus@gmail.com. Follow Dan on Twitter @danhanzus.
Read more New York Yankees news on BleacherReport.com