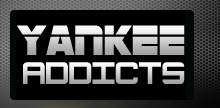 October 11, 2010 · Bronx Baseball Daily · Jump to comments
Article Source: Bleacher Report - New York Yankees
Via Chad Jennings:
Brian Cashman just announced that the Yankees are planning to go with a four-man rotation in the American League Championship Series, no matter who they're playing in the next round.

Cashman said the Yankees will meet tomorrow to discuss the roster, but he expects A.J. Burnett to be the fourth starter.
If the Yankees had gone with a three-man rotation, that would have meant that all three pitchers, CC Sabathia, Phil Hughes, and Andy Pettitte, would have to pitch on short rest, including CC twice. With the way Burnett has pitched this season, it's hard to believe that their chances are better this way even with everyone pitching on short rest.
Cashman didn't say how the rotation was going to line up exactly. Personally, I would like to see Sabathia pitching games no. 1, 4, and 7 if necessary, with Pettitte going in games no. 2 and 6, Hughes in no. 3, and Burnett in no. 5.
Hopefully the Yankees jump out to a 3-0 lead so this isn't that big of a deal.
Related Stories
Read more New York Yankees news on BleacherReport.com