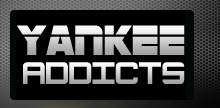 October 13, 2010 · Kate Conroy · Jump to comments
Article Source: Bleacher Report - New York Yankees
The moment the Texas Rangers' Cliff Lee hurled his last strike Tuesday night; he not only killed the Tampa Bay Rays' postseason dreams, but also gave the New York Yankees an official ALCS opponent for Game One on Friday night.
The Yankees will fly down to Texas to face the Rangers in the seven-game ALCS series, which for one team will lead to the World Series.
In all honesty, predictions were betting the Rays would beat the Rangers in the ALDS, but in a five-game series, there is no room to stumble.
The Rays didn't start playing up to their ability until Game Three, and by the time Tampa caught up, it was Cliff Lee time in the deciding game.
Cy Young winner and certified bad-ass Cliff Lee is no stranger to pressure, especially in the postseason. Watching Lee's postseason career is literally watching baseball history in the making.
In seven starts, Lee posts a 1.44 ERA, allowing nine earned runs, six walks, striking out 54 hitters and giving up just one home run over 56.1 innings.
Three of those seven wins were complete games; the last was this past Tuesday night to beat the Rays and lead the Rangers to the ALCS for the first time.
Except for changing uniforms like it's Halloween in the Bronx, Lee and his famous left arm are no stranger to the Yankees. Neither are Yankees fans, who will get to see Lee in the Yankees' first ALCS home game next Monday night, the third of the series.
If recent history can predict any game's outcome, this would be it. Lee is the dictator when he starts; if he wants to win, he does.
The Yankees have shown signs of getting to Lee in the past with some success, but not in 2010 and certainly not in the postseason, which was witnessed in the 2009 World Series when Lee was a Philadelphia Phillie.
The Yankees are by no means underdogs in this series against the Rangers, except any game Lee pitches because the Bombers are at his mercy, but this time things will be different.
Overall, the Yankees have the better team; way more experience and are beyond determined to repeat.
Not just for the players' own egos because the team owes someone else another World Series title, to say the least.
Mr. George Steinbrenner, known as the Boss, would not have it any other way and neither would his Yankees.
So, bring on the Rangers and Cliff Lee, because it's time for the Yankees to show the Rangers how champions play.
Read more New York Yankees news on BleacherReport.com