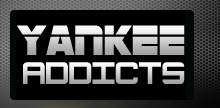 October 18, 2010 · Andrew J. Kearney · Jump to comments
Article Source: Bleacher Report - New York Yankees
The Texas Rangers could very easily be up 2-0 on the New York Yankees right now and quite frankly should be. They blew a huge opportunity on Friday night and they know it. These MLB Playoffs are all about seizing the moment and making the most of your opportunity. While the Rangers have done that well thus far in October, they could have had the defending World Champions on the ropes. Now, the series turns to the Bronx with Cliff Lee opposing Andy Pettite in a pivotal Game 3 on Monday night. Lee is undefeated in the playoffs and has owned the Yankees throughout his career. Pettite is perhaps the best post-season pitcher of this era and has numerous rings to show for.
This series has taken on an identity of its own and should provide even more fireworks now as it shifts to New York. So far, the Rangers have gotten the better of the champs and are in striking distance of putting this thing out of reach. The Yankees, now with the home-field advantage will continue to fight for their playoff lives and prove why they are the game's best in October.
Let's now recount the top performances in the early part of this year's ALCS.