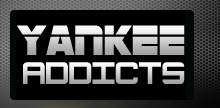 News published by
January 3, 2011
The MLB has benefited greatly off of imported talent.  A recent wave of Japanese and South American players have taken the game by storm.  Today, about 27% of MLB consists ...
November 22, 2010
Cliff Lee is a phenom on the mound.  With the ball in hand and the crowd going bananas, Lee oftentimes shines.  His prowess as a big-game pitcher is no longer ...
November 10, 2010
Year in and year out the New York Yankee empire becomes increasingly more evil.  Free agency often serves as the building block of their star-studded team.  It's nearly impossible for ...
November 8, 2010
Derek Jeter is currently a free agent.  He's one of the greatest New York Yankees of all-time, so just the words "Jeter" and "free agent" in the same sentence is ...
October 20, 2010
The New York Yankees are all but out of their ALCS match-up with the Texas Rangers. With the exception of just a few innings, they have been dominated throughout and should ...
October 18, 2010
The Texas Rangers could very easily be up 2-0 on the New York Yankees right now and quite frankly should be.  They blew a huge opportunity on Friday night and ...
October 11, 2010
The Yankees again proved to be the most playoff-efficient team of all.  They bullied Minnesota right out of their own home early on and then finished them off in the ...
October 4, 2010
The Philadelphia Phillies are associated with the month October.  For the past two seasons they have been the Kings of this month without much adieu.  They now boast the top ...