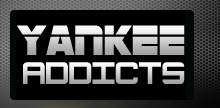 October 16, 2010 · Bronx Baseball Daily · Jump to comments
Article Source: Bleacher Report - New York Yankees
The Rangers again jumped all over a Yankees pitcher, but the offense couldn't pick him up like they did in the first game. The final score was 7-2 as the Yankees and Rangers split the first two games of the ALCS. The series now heads back to the Bronx on Monday night.
Here are some highlights:
Phil Hughes only lasted four innings and allowed all seven runs on 10 hits and three walks.
The Yankees bullpen held the Rangers scoreless the final four innings.
Robinson Cano is red hot. He hit a bomb to right field and also doubled.
Other than that the offense was very quiet. Nobody aside from Cano had a multi-hit game. They did manage seven walks, but left 12 men on base.
Here is one thing I like, Andy Pettitte is on the mound tomorrow against Cliff Lee. I feel like, if anybody on the Yankees staff can beat Lee right now, it's Pettitte.
Here's one thing I don't like, it's pretty much a five game series right now and Texas has Lee starting game one. One bright side to this thinking is, the Yankees have home field advantage.
For the skeptical out there, this series is not over. No matter what you say, it is not over.
Related Stories
Read more New York Yankees news on BleacherReport.com