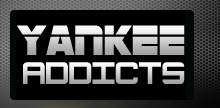 October 19, 2010 · Bronx Baseball Daily · Jump to comments
Article Source: Bleacher Report - New York Yankees
With A.J. Burnett taking the mound tonight the Yankees will need their offense to show up more than at any point in this series.
The problem is, aside from the eighth inning of game one, they have been largely absent. Really the only one who has shown up is Robinson Cano. Cano is leading the team through the ALCS with a .417 batting average and a pair of home runs. Unfortunately he can't do it alone.
Here is a list of the other Yankees and their numbers:
It's time to wake up. Obviously Teixeira is the biggest problem in this lineup and A-Rod is probably right behind him despite hitting the ball on the screws a couple of times.
Things have to change. If they don't the silver lining may be that they will get extra time to work with hitting coach Kevin Long this offseason.
Related Stories
Read more New York Yankees news on BleacherReport.com