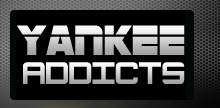 October 14, 2010 · Dan Hanzus · Jump to comments
Article Source: Bleacher Report - New York Yankees
I imagine the Tampa estate that Derek Jeter calls home has a room (or wing) devoted to all the awards and trophies he has amassed over his Hall of Fame career.
I'm guessing he takes the room and what it represents for granted at this point in his life. He probably won't truly be able to appreciate all he has accomplished until his ride as a professional athlete comes to an end.
This may explain why he's using his 2004 Gold Glove award to prop open his attic closet.
That said, something tells me there's one accolade that brings him instant gratification … and it belongs to his fiancé, Minka Kelly.
The Friday Night Lights star was recently named Esquire magazine's "Sexiest Woman Alive" for 2010. Past winners include Kate Beckinsale, Halle Berry, Charlize Theron, and Scarlett Johansson.

(In case you're keeping track at home, Jeter has bedded two of the last five women named by a globally-respected publication as the hottest chick in the world. This is awesome.)
Yes, it's been a good October for Jeter, a man who has made his reputation in the fall. His team, the New York Yankees, will begin the quest for their 41st American League pennant on Friday when they kick off the ALCS against the Texas Rangers.
The 36-year-old shortstop has always had impeccable timing—his first year as a pro doubled as the Yankees' first championship in 18 years, after all—but the timing hasn't been great in regard to the end of the massive 10-year contract Jeter signed in 2000.
Jeter was third in AL MVP voting in 2009, but he had the worst season of his career in 2010, batting just .270, as his production dropped precipitously across the board.
But Jeter, more than anyone, knows that being a Yankee means producing not in April and May, but October.
He had a quiet first round of the playoffs, with four singles in 14 at-bats against the Twins, but there is much money to be made by excelling in the ALCS.
I know, I know: How much money does one guy need? I'll hand that over to Yankees season-ticket holder Bruce Springsteen from his classic "Badlands": "Poor men wanna be rich, rich men wanna be kings, and a king ain't satisfied 'til he rules everything."
Jeter has reached the "king" stage of his life. ESPN baseball writer Buster Olney told Bill Simmons on Monday that he believed the Yankees will offer Jeter a contract in the range of three years for $45 million, obviously well below the three years and $75 million that has been widely speculated.
Olney's logic makes sense: They'll offer Jeter the deal and invite him to find a better one. When that doesn't happen, they'll have their icon.
The Yankees aren't dumb. They know Jeter doesn't have any leverage. Six months of mediocre baseball will take that from you. But Jeter still has one more chance at balancing the scales before the last big contract negotiation of his career.
He can go off for the rest of this month.
Say Jeter bats .400 in the ALCS and then wins the World Series MVP. You think the Yankees will be able to stand pat with the original offer they had in mind? No chance.
What's exciting as a Yankee fan is that you know Jeter lives for this type of thing. He's an epic self-motivator. I just don't see any way he doesn't rise to the occasion.
He has the money, the girl, the respect, and the success … but you know the captain wants more.
The King ain't satisfied 'til he rules everything.
Dan Hanzus writes the Yankees blog River & Sunset and can be reached at dhanzus@gmail.com. Follow Dan on Twitter @danhanzus.
Read more New York Yankees news on BleacherReport.com