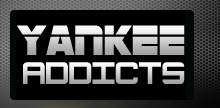 October 19, 2010 · Nick Poust · Jump to comments
Article Source: Bleacher Report - New York Yankees
The New York Yankees crowd rose to their feet, cheering on their team. But what they were cheering was indicative of the start put together by a certain Texas Rangers unflappable left-handed pitcher. The ovation formulated when a Yankees hitter worked a three-ball count—nothing more. This is how dominant Cliff Lee—their nonchalant, modest, 31-year-old ace—was.
He entered this Game 3 start with a 6-0 record and a 1.44 ERA in his postseason career. When the Rangers lost Game 1 I immediately thought if Game 2 was won they would have an advantage entering Game 4.
Considering they proved victorious in the second game, the Yankees hopes of holding a series advantage were slim even though Lee was up against Andy Pettitte, the winningest pitcher in postseason history. Pettitte clearly isn't chopped liver, but Game 3 was unquestionably Cliff Lee's to lose.
He received immediate run support, as Michael Young slapped a one-out single then Josh Hamilton followed with one of the more effortless swings ever produce a home-run. The lefty power hitter waited on a 2-1 cutter, stuck his bat out to reach the outside pitch, and poked it into the left-field seats.
It was the weakest looking hack, but the testament to Hamilton's strength silenced a hyped-up crowd and gave Lee some insurance before he took the hill.
Once he did, it became evident those two runs may have been all that was necessary to fuel a victory. He picked up right where he left off against the Tampa Bay Rays, hitting his spots and mixing his pitches as the second-coming of Greg Maddux. Maddux, a future Hall of Famer, pitched where the catcher's glove was positioned routinely over 23 remarkable years.
Lee did the same on this night, painting the inside and outside corners with such precision. He was just having fun out there, playing catch with catcher Bengie Molina, and executing to perfection. He set up the Yankees with everything from a curveball to a changeup, keeping them off guard with masterful unpredictability.
Three no-hit innings were thrown to start. In the fourth he allowed a walk. A free pass to Mark Teixeira and the popular question was: what's wrong with Cliff Lee?
It was a sarcastic question, of course, asked by many of whom I follow on Twitter, but there was something to it. How so? Lee just doesn't walk people. He didn't in his two starts against the Rays, spanning 16 innings. During the regular season he only walked 18 batters, including two intentional, in 212 1/3 innings.
As the New York Times' Pat Borzi wrote in his article, "Mission Control: Lee Wins by Avoiding Walks:"
"No pitcher in the last 70 years has thrown so many innings and yet walked so few." And, on top of that, he was only the third pitcher since 1900 to throw more than 200 innings and walk fewer than 20, joining Babe Adams of the 1920 Pittsburgh Pirates (262 innings, 18 walks), and Red Lucas of the 1933 Cincinnati Reds (219/18). Adams nor Lucas were strikeout pitchers. Lee is, and certainly was against New York.
He had already struck out seven before Teixeira's walk, including the hitters ahead of the lefthanded first-baseman in that fourth inning. The cheer for that walk was as if a leadoff triple had been hit. Getting a runner on base was a win for New York, according to the crowd. But, nothing could be done to capitalize on the surprising occurrence out of Lee.
A lined shot off the bat of Alex Rodriguez was chased down by a deceptively quick Nelson Cruz in right. That was the only hard hit ball the Yankees had off Lee. Everything else put in play was either a weak pop-up, a lazy fly-ball, or a pathetic groundball.
And when balls weren't put in play, those in a lineup I consider to be one of the more dangerous in baseball stared at called strikes or swung through changeups, equally well-placed fastballs, or junk intentionally tossed into the dirt. I haven't seen the Yankees that befuddled in a long time, and it was all because of Lee.
If not for that homer by Hamilton, a pitchers duel for the ages would have been in the works. Pettitte, aside from the costly hiccup, was superb, firing seven brilliant frames in keeping the deficit the same as it was entering the bottom of the first. Lee was just a lot better.
He ran into a little trouble in the sixth, as Brett Gardner, who comically missed the first-base bag on a head-first slide earlier, singled to begin the inning and then stole second. But Lee worked around that, though it took a bit more effort than the previous five frames. He went on to pitch two more dominant innings, with the lead still 2-0.
Having allowed just two hits and the walk to Teixeira while striking out 13 Yankees, it appeared their ace would head out for the ninth despite throwing 119 pitches. There was a catch: he would do so only if the Rangers went down quickly in the top. That was not so, as they read a lot into the term "insurance-run."
Insurance runs came across, as poor David Robertson came on to pitch after Boone Logan allowed a lead-off double to Hamilton and promptly served up batting practice. He proceeded to relinquish five hits. Four earned runs were attached to his name, then a fifth as Sergio Mitre uncorked a wild-pitch to let in the eighth Texas run. All the fans who remained in the stands were cheering on Texas.
With the once close game transformed into a rout, Lee's night was done. Handshakes and hugs extended Lee's way in the dugout, congratulating him on his latest masterpiece. A masterpiece that, whether admitted or not, had to come to the surprise of no one, even those baffled Yankees whose season now relies heavily on the mediocre right arm of A.J. Burnett.
Read more New York Yankees news on BleacherReport.com