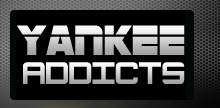 October 13, 2010 · Bronx Baseball Daily · Jump to comments
Article Source: Bleacher Report - New York Yankees
But he did say it was a big step forward.
Via Chad Jennings:
When the Yankees set up a simulated game, they try to make everything as real as possible. It doesn't get more real than this: A.J. Burnett plunked two batters today. He got Greg Golson early, then he hit Austin Kearns late.

[snip]

Both hit batters came on two-seam fastballs that got away, and Burnett laughed about them afterward. So did Kearns, who was grazed in the upper arm. Those two pitches aside, Burnett was happy with his outing. His past few bullpen sessions had been no more than 20 pitches, and the biggest test seemed to be working with a long pitch count deep into a (simulated) game.

"Better than I thought," Burnett said. "I ended up throwing 80-plus pitches and felt good the whole way through it. That was a big step forward I think…Curveball was great I thought today, and I threw some great changeups too. The only two that got away were the only two that hit our guys."
No announcements have been made yet, but Burnett is most likely starting in Game 4 of the ALCS. A lot of people are making this sound like an automatic loss, but it is possible he comes through. Even if he doesn't, the Yankees have won World Series with pitchers who had terrible seasons taking the mound, such as Kenny Rogers in 1996 and then Denny Neagle in 2000. Neither pitched well, but the Yankees overcame bad starts both times around.
I've also heard some people suggest that the Yankees take the hit and start him in Game 3 against Cliff Lee. I don't like that either because it assumes that Lee is going to automatically beat the Yankees and that Burnett has no shot at winning Game 4. Both are likely, but neither is a lock. Starting Burnett against Lee is as close to a lock as you can get in baseball. I'd rather have them roll the dice and take their chances.
Related Stories
Read more New York Yankees news on BleacherReport.com