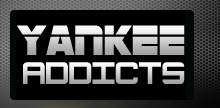 May 24, 2009 · Micheal Robinson · Jump to comments
Article Source: Bleacher Report - New York Yankees
With the recent home stand of the New York Yankees that included a nine-game winning streak and four walk-off wins, they are now right in the thick of things in the American League East.
A few weeks ago, they were 6.5 games back and playing .500 baseball. Since then, they have won 10 of their last 11 games, the best in baseball.
Whether he is responsible or not, the Yankees are 12-3 since the return of Alex Rodriguez on May 8 in Baltimore.
A-Rod made an immediate impact with his three-run shot that catapulted the Yankees to a 4-0 win over the Orioles, this coming after a five-game losing streak.
He had the walk-off home run in the bottom of the 11th inning on May 16 against the Minnesota Twins.
His most recent home run tied the game up with a two-run shot against the Philadelphia Phillies in the bottom of the ninth inning to secure a 5-4 win.
In 15 games since returning from hip surgery, Rodriguez only has 10 hits, but seven of them are home runs.
"Right now, I'm probably the happiest .200 hitter in baseball," Rodriguez said.
The Toronto Blue Jays had a nice lead over the Yankees and Boston Red Sox, but have lost five games in a row, the two most recent at Turner Field in Atlanta during interleague play against the Atlanta Braves.
The Braves look to sweep Toronto on Sunday, while the Red Sox and Yankees both look to take over the AL East with a win and a Toronto loss.
The Yankees and Red Sox are both 25-18 on the season.
Meanwhile, after a slow start, the Tampa Bay Rays have climbed up to a 23-22 record and just 3.5 games behind Toronto, and three games behind the Red Sox and Yankees.
The Rays are currently on a three-game winning streak.
The Yankees haven't won the AL East since 2006.
Toronto hasn't won the AL East since they won it back-to-back in 1992 and 1993, the years they went on to win the World Series.
Only two months into the season, it looks like things in the AL East could stay tight throughout the year.