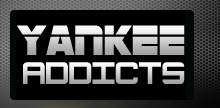 June 4, 2009 · Ari Kramer · Jump to comments
Article Source: Bleacher Report - New York Yankees
Major League Baseball suspended A.J. Burnett for six games two days after he threw a fastball that rose up and in on Texas' Nelson Cruz. The pitch did not hit Cruz, but the right-handed batter needed to drop to the ground to avoid being plunked in the head.
Texas tosser Vicente Padilla had already hit Mark Teixeira. Twice. On two consecutive pitches. Both instances appeared to be intentional and Tex was furious after Padilla hit him the second time.
Regardless, Padilla will make his next scheduled start and will only need to pay a fine as a consequence.
Burnett was fined and suspended.
Fair?
Absolutely not, and that is why Burnett has chosen to appeal.
It doesn't make sense that Padilla, a pitcher who is notorious for hitting batters, should not be suspended while Burnett needs to miss a start.
Burnett didn't even hit Cruz. His pitch rose up and sailed in towards Cruz' head, but the ball never made contact with the batter. Burnett shook his hand after he followed through, implying that the ball slipped.
There is no doubt that Burnett is willing to verbally express himself, but he is not stupid. He wouldn't risk ending a player's career, or life, to retaliate.
MLB's decision is absurd, and I expect that Burnett's suspension will be annulled. Burnett will be available to play until his hearing, which will decide the proper punishment.