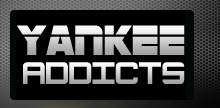 March 14, 2010 · Bronx Baseball Daily · Jump to comments
Article Source: Bleacher Report - New York Yankees
According to George King of the NY Post , Cuban shortstop Adeinis Hechavarria is close to signing a contract near $10 million with the Blue Jays. The Yankees have made a strong push to sign him, but Hechavarria is said to be worried about being blocked by Derek Jeter .
Here is more from the NY Post:
According to an industry source Hechavarria is close to signing a $10 million deal with the Blue Jays because he didn't envision himself playing short for the Yankees.

Hechavarria, 21, was leery of Derek Jeter's impending extension that will keep him at short for the foreseeable future.

Having seen Hechavarria work out often in the Dominican Republic, the Yankees were high on the 6-foot-1, 170-pounder with a body that resembled a young Alfonso Soriano . Some in the organization believed he could have made the switch to second base if the Yankees wanted to deal Robinson Cano when his contract expires following the 2011 season.

However, it appears that Hechavarria didn't want to wait until Jeter is no longer the Yankees' shortstop.
Thoughts
It is unfortunate that the Yankees are missing out on what seems like strong talent, but if Hechavarria is close to being major league ready Jeter will be blocking him at short.
The idea to move him to second base sounds like a good idea, but it seems to be selling Cano short. Cano is still relatively young and has been one of the top second basemen in the game. The idea that the Yankees could commit to Hechavarria, who is untested and unknown, over Cano seems silly at this point.
Down the road it could be a different story, but it seems like Hechavarria wants to be sure that there is a spot in the lineup waiting for him when he's ready. He's not going to get that from the Yankees. Unfortunately that means the Yankees miss out on signing him.
Related Stories
Read more New York Yankees news on BleacherReport.com