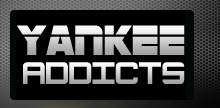 May 6, 2009 · Marisa Scolamiero · Jump to comments
Article Source: Bleacher Report - New York Yankees
The Yankees spent most of their offseason money on improving their starting rotation with the likes of CC Sabathia and A.J. Burnett. They decided to leave their bullpen as it was from the previous season, and simply promote from within the organization.
When they broke camp to start the season, the Yankees felt like they were in a good place with their bullpen.
Boy were they wrong.
The Yankees' pitching situation has been complicated by many factors.
First, the starting rotation has been less than stellar, and the bullpen has been used more in the beginning of the season than anyone planned.
Second, the injury to Chien-Ming Wang has put more pressure on the bullpen. Wang is the type of pitcher that can almost always be counted upon to go seven or eight innings per start. His hip injury caused him to be extremely ineffective. He could not go deep in his starts, and the bullpen was left to clean up his messes a lot early than expected.
However, the biggest blow to the bullpen has been the injury to Brian Bruney. Before Bruney was placed on the DL two weeks ago, he was Girardi's most reliable pitcher out of the bullpen other than Mariano Rivera.
In nine games, Bruney had a 2-0 record with a 3.38 ERA. He'd given up three hits, no home runs, walked two, and struck out twelve.
The rest of the 'pen has not been so reliable.
The biggest offender is Damaso Marte. The lefty specialist has been awful in the seven games he pitched. He was 0-1 with a bloated 15.19 ERA. Marte gave up nine hits, three which were home runs, walked three, and struck out six.
Marte's ineffectiveness could be due to pain he's been feeling in his shoulder, which caused the Yankees to place him in the DL just a couple of days ago.
Jose Veras, who was very reliable for the Yankees last year has been anything but that this season. Veras has had moments of brilliance like when he pitched those three innings against the A's in the 14-inning game against Oakland.
Despite that, in 12 games, Veras is 1-1 with a 7.62 ERA. He's given up nine hits, but worse than that, he's walked nine and struck out ten. For a guy with has such a great fastball, his inconsistency has been his undoing.
Edwar Ramirez, another guy who pitched well for the Yankees last year hasn't fared as poorly as Veras, but hasn't been so great himself. In 10 games, Ramirez has a 5.06 ERA and has surrendered 10 hits, 11 walks, and 10 strikeouts. Ramirez has a killer breaking ball, but he often goes to it too much, and hitters tend to figure him out too quickly.
Jonathan Albaladejo, Mark Melancon, Phil Coke, and David Robertson have been hit or miss. Girardi has been going to Albaladejo and Coke the most as of late. Yet, Albaladejo has given up 15 hits, three which were home runs. He only has five strike outs in 12 appearances.
Coke might have the lowest ERA of the group at 3.38, but the lefty pitcher has given up nine hits (including the go ahead home run to Carlos Pena as I'm writing this) and has walked four.
Robertson and Melancon can't get a whole lot of the blame because they were just recalled over the past week and a half. Melancon has been tabbed by the Yankee organization as being the next Mariano Rivera, and based on the way he pitched in Triple A, his high ERA of 5.40 and his five walks are likely a result of nerves.
Robertson hasn't been used all that often, and has managed to surrender no home runs and has struck out seven in just four appearances.
Even Mariano Rivera has struggled slightly. Mo gave up the game tying home run to Jason Bay when the Yankees were at Fenway Park two weeks ago, and then had Curtis Granderson hit a three-run home run off of him a few days later in Detroit that almost cost the Yankees the game.
All of these things are what's making Joe Girardi hold his breath every time the call to the bullpen has to be made. The lack of stability in the bullpen is also what's making people wish Joba Chamberlain was back in the bullpen. Chamberlain was a legitimate bridge to Mo and had no trouble getting hitters out with his 99 mph fastball or his 88 mph change-up.
Girardi hasn't managed the relievers the way that a lot of people think he should, nor has he been able to find the right combination of pitchers to secure a Yankee lead.
Having a starting rotation that isn't living up to expectations isn't easy to deal with, but somehow having a bunch of ineffective relievers that can't stop the bleeding or hold a lead is somehow much worse.
Right now, a lot of Yankee fans are wishing that Jeff Nelson, Mike Stanton, and Graeme Lloyd were still around because they were they types of pitchers that made a bullpen look good.