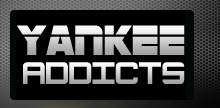 September 14, 2011 · Eric Bowman · Jump to comments
Article Source: Bleacher Report - New York Yankees
Another day, another celebrity couple is calling it quits. It's tough for two stars to make it work, which is why it should come as no surprise that Alex Rodriquez and Cameron Diaz are no longer dating.
This news comes from Us Weekly, almost three weeks after Derek Jeter ended his relationship with actress Minka Kelly.
Anybody else think it's odd that A-Rod wants to be single after seeing his buddy live the single life again?
Nobody knows what Diaz and A-Rod's relationship was really like, but according to sources they're using the excuse of living hectic lives.
She's very busy with her career, the source says of Bad Teacher actress Diaz, 39. And he's had injuries and wants to focus on his game. They're dedicated professionals.

They're still very friendly and like each other, the source says. He has an enormous amount of respect for her. (Us Weekly)

That's great and all, but the real story of this breakup is A-Rod continuing his quest to be like Derek Jeter.
Unfortunately, A-Rod will always be in Jeter's shadow.
Rodriquez is currently listed as day-to-day (aren't we all?), and he is expected to miss the next couple of games to heal his thumb.
Once he starts playing as a single guy again, he is hoping it works out well for him just like it has for Jeter.
In the first half of September, Jeter is hitting .340 with 8 RBI. His game has stepped up since he got his 3,000th hit, and now that he's single, he's living free and easy, which will do wonders for him this postseason.
A-Rod hasn't been much of a factor for the New York Yankees this season because of injuries, but he's resting up for postseason play, which is when the Yankees desperately need him to contribute.
Both Jeter and A-Rod have been linked to very beautiful women, but Jeter will always be better. The Yankees' shortstop can have any woman he wants, while it feels like A-Rod gets the less attractive Hollywood stars.
If you were to ask any sports fan which guy they could trade places with for a day, he would tell you Jeter. Yes, even those who hate the guy would say Jeter because the man is just awesome. Men want to be him, and women want to be with him.
Jeter is respected by all. The same cannot be said about A-Rod.
Part of that comes from steroids, and part of it also comes from how A-Rod has presented himself throughout his career. He hasn't portrayed himself as a likable guy like Jeter has.
For that, A-Rod will always play second fiddle to Jeter, and his recent breakup with Diaz is just further evidence of why he'll always be two steps behind Jeter.
Read more New York Yankees news on BleacherReport.com