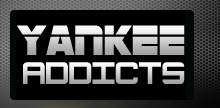 News published by
May 4, 2012
The New York Yankees lost Mariano Rivera last night for the season and possibly forever, but they still have the talent to get by without him. Rivera was as close to ...
October 7, 2011
The New York Yankees faced elimination last night in the ALDS but came up short against the surging Detroit Tigers, which left everybody wondering what the future has in store ...
September 14, 2011
Another day, another celebrity couple is calling it quits. It's tough for two stars to make it work, which is why it should come as no surprise that Alex Rodriquez and ...