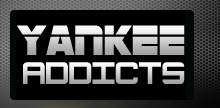 March 11, 2010 · Harold Friend · Jump to comments
Article Source: Bleacher Report - New York Yankees
Nan C. Pahlohsee rooted for the Washington Senators and any team that was playing the New York Yankees.
Nan has been around baseball longer than she cares to admit, and recalls when the team that was no longer the Bronx Bombers obtained the services of John Kennedy to play shortstop.
The great New York Yankees' infield of Bobby Richardson at second base, Cletis Boyer at third base, and Tony Kubek at shortstop was gone.
Kubek retired after the 1965 season, Richardson followed at the end of 1966, and Clete Boyer was sent to the Braves in exchange for outfielder Bill Robinson.
New York Yankees' Shortstops
It did my heart good.
I remember the days of Phil Rizzuto and then Tony Kubek. They were the glue that helped the Yankees dominate from the 1940s through the early 1960s.
The Yankees, it seemed, were always strong at shortstop, although when Rizzuto started to fade during the mid-1950s, they resorted to Willie Miranda and Billy Hunter.
Now, they were going after Kennedy. A more offensively challenged shortstop would be hard to find.
John Kennedy
During the spring of 1967, the desperate Yankees sent young outfielder Roy White, pitcher Jack Cullen, and first baseman-outfielder John Miller to the Los Angeles Dodgers' Spokane farm team in exchange for John Kennedy.
Not many fans know that the Yankees traded Roy White, but there was a catch.
White was optioned to Spokane, but the Yankees, who were disappointed with his .225 batting average and output of only seven home runs in 1966, kept "ownership" of the bespectacled outfielder.
Kennedy was the ideal shortstop for fans who rooted against the Yankees. He could field, but he was a stranger to hitting.
Manager Ralph Houk said Kennedy, who was primarily a third basemen in Los Angeles, would be his shortstop.
"We need a glove at shortstop. He's not supposed to be much of a hitter, but if he can field, he'll help us."
Kennedy had batted .201 in 1966, but it got even better. He had hit .171 the previous season.
Now, I followed Kennedy when he was with my team, the Senators.
In 1964, Kennedy had his best season, batting .230 with seven home runs in a 148 games. Not much of a best season.
John was one of my favorite Washington players.
It was fascinating that Kennedy, the ball player, and John F. Kennedy, the president, were both born on May 29 and both worked in Washington.
Kennedy followed baseball, and he knew the Washington team. Much to the surprise and delight of the ball player, Kennedy, the ball player once received a birthday card from President Kennedy.
Kennedy did not fare well with his new team. He batted .196, hit one home run, and lost the shortstop job to Ruben Amaro.
The Yankees won only 72 games, while losing 90, to finish ninth.
My Senators, managed by Gil Hodges, won four more games than the Yankees.
It was Hodges who would lead the 1969 Miracle Mets to the World Championship, which further diminished the Yankees' New York dominance.
Kennedy became a journey man. The Yankees sent him to the expansion Seattle Pilots after the 1967 season.
After a stint in the minors, Kennedy joined the Pilots during their first season, which was 1969. John also played for the Boston Red Sox, who released him after the 1974 season.
Kennedy finished his career with a .225 batting average. He was a fine defensive player, but even in the era of the pitcher, he never hit enough to play regularly.
What a great name.
References:
By DAVE ANDERSON Special to The New York Times . (1967, April 4). Yanks Get Kennedy of Dodgers For White, Two Minor Leaguers. New York Times (1923-Current file),53. Retrieved March 11, 2010, from ProQuest Historical Newspapers The New York Times (1851 – 2006). (Document ID: 90310307).
Read more New York Yankees news on BleacherReport.com