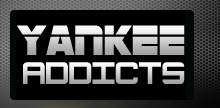 April 4, 2010 · Christopher Chavez · Jump to comments
Article Source: Bleacher Report - New York Yankees
In less than 24 hours, the 2010 baseball season starts with the defending champions, the New York Yankees, taking on their long-time rivals, the Boston Red Sox.
This is the first time that the Yankess have opened up the season as the defending champs since 2001, but it definitely feels sweeter this time around.
The Red Sox will turn to Josh Beckett for their opening day start.
Last year, he was able to get the season started on the right note with a win, but in the postseason, the Red Sox were swept by the Los Angeles Angels in the American League Division Series to send them home early.
CC Sabathia will be the Yankees counter attack to Beckett. This will also be his second straight Opening Day start.
Last year, the Yankees opened with an ugly loss to the Orioles, which had so many New Yorkers already crying for the oust of Sabathia. But in the end, the big lefty played a huge role in the Yankees' championship run in October and November.
Both pitchers were looking alright in Spring Training. It will most definitely have to be the offense and defense that will have to carry the team on Sunday night.
The Yankees let World Series MVP Hideki Matsui and Johnny Damon walk away through free-agency. Fan favorite Melky Cabrera was traded to the Atlanta Braves in the trade that brought back Javier Vasquez to New York.
Curtis Granderson and Nick Johnson will be relied on to pick up the slack of Matsui and Damon.
The Red Sox made a move for John Lackey, Mike Cameron and Adrian Beltre to make up for the loss of Jason Bay. Bay was the last remnant and trace of Manny Ramirez in Boston.
Cameron decided to add a bit of fuel to the fire, as he called the Yankees a team that is "built up more by the media than the players."
The Yankees are no strangers to such smack talk, as Jimmy Rollins declared that his Phillies would win the World Series. The Yankees responded by proving him wrong.
The same approach will probably be taken by the Yankees, as they will try to counter Cameron's comments with their bats and gloves tomorrow night.
AJ Burnett will take on John Lester on Tuesday night, while Andy "Old Reliable" Pettitte will close out the series on Wednesday night, as John Lackey makes his Red Sox debut at Fenway.
One important thing to note for the Yankees is that Jorge Posada and Nick Johnson will be a part of the Yankees line-up for the start of the baseball season.
Both were fighting minor injuries, but the Yankees took the right precautions and rested them for Sunday night.
Read more New York Yankees news on BleacherReport.com