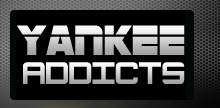 September 29, 2010 · darcy fournier · Jump to comments
Article Source: Bleacher Report - New York Yankees
Two years ago the Yankees spent $82.5 million to acquire the talents of Allen James Burnett to fill the secondary spot in their rotation behind that of ace C.C Sabathia. The acquisition was a risky one mostly due to two factors; Burnett's frequent visits to the disabled list during his career, and his inability to live up to the talent that was evident he possessed.
On paper, the rotation of Sabathia, Burnett, Andy Pettitte, Phil Hughes, and Javy Vasquez looked formidable, but World Series are won on the field, not on paper.
Most figured that if Burnett could stay healthy he would likely be able to contribute. He got the healthy part right, but as far as contributing? Not so much.
Burnett has alleviated the concerns about his durability by starting 65 games in his first two seasons in pinstripes and averaging 190 innings during that span. The other concern, you know the one about his inability to live up to his obvious talent, is seriously putting the Yankees 2010 hopes of repeating as World Champions in jeopardy.
Burnett finished the 2009 campaign, his first in Yankee pinstripes, with a 13-9 record and an ERA just over four, striking out nearly 200 batters in just over 200 innings, clearly helping the Yankees return to the playoffs after a one year exile.
The A.J acquisition was worth it, right?
Not so fast.
Everyone knows that in baseball, especially in New York, that the regular season is one thing but the postseason is everything. Burnett's 2009 postseason performance showed the Yankees how poor an investment A.J Burnett was and unfortunately continues to be.
Burnett started five postseason games in 2009 and was at best mediocre and a foreshadowing of things to come. Posting a 1-1 record and allowing more than five runs per game in the 2009 postseason, Burnett started to show major control problems, problems that continued and became worse through the 2010 campaign as well. Save the "Burnett won a crucial game" in the 2009 postseason argument…he won one game.
Had the Yankees not received amazing contributions from Andy Pettitte and C.C. Sabathia in the 2009 postseason, and had the Phillies offense actually backed up the mouth of Jimmy Rollins, the Yankees would still be in search of title No. 27. If the Phillies offense showed up, the Yankees would have lost due in large part to Burnett's inability to pitch big games. He simply proved he could not be trusted in pressure situations.
So far in 2010 there is no reason to think any differently.
On Monday, September 27, 2010 the Yankees tapped Burnett to start against his former team, the Toronto Blue Jays, in a game in which had the Yankees won they clinched a playoff berth. The Tampa Bay Rays, in first place by a half-game, would lose on this night to the Orioles. A win against Toronto would put the Yanks back into first place with a handful of games left in the regular season.
The Yankees scored five runs for Burnett, more than enough to win with any other pitcher in their rotation on the mound…any other pitcher but Burnett himself.
Burnett lasted all but 2.1 innings, giving up seven earned runs on seven hits, two of which were home runs that made it 25 on the year allowed. Burnett, the defending World Champion and supposed second starter, now owns a 10-15 record with a 5.33 ERA.
Is anyone willing to bet that if there is any team out there dumb enough to call Brian Cashman with the slightest interest in A.J Burnett, that Cashman won't jump at the chance to dump Burnett for as little as a bag of used balls?
The Yankees, while virtually assured of a Wild Card this season (they got in the following night), should have won the division, handedly, by the first week of September. A.J is a major reason why that never happened.
The good news for the Yankees and their quest for a repeat in 2010 is that they have a stronger starting rotation than they did last season. C.C Sabathia and Andy Pettitte, despite missing numerous starts due to injury, have posted excellent numbers this season and have proven they can be trusted in big game situations.
Despite some control issues, Phil Hughes has been a nice surprise, giving up one full run less per game that Burnett. C.C, Pettitte, and Hughes should be enough to get past the first round.
Burnett is this year's Joba Chamberlain. Amazing talent, but when he thinks too much he betrays that talent. He needs to just focus, shut up, and pitch. I won't even get into the "personal catcher" problem. The only time a pitcher should have a 'special catcher" is if he is a knuckleballer. Burnett is not and if he was that would only be yet another pitch he cannot get over the plate this year.
The biggest problem looming in the Bronx as the postseason approaches is not A.J.'s inability to live up to his potential, but rather the state of denial that he and his manager Joe Girardi are in over Burnett's reliability.
In talking to the media following Monday's loss to Toronto, Joe Girardi said, "He didn't have his good stuff tonight, and that's going to happen…He was big for us in the playoffs last year, but I'm not going to talk a whole lot about the playoffs until we know we're in. We've got to get there first, and we're not in."
Excuse me Joe, but he has not had his good stuff all year. He was "big" in the playoffs last year? Really Joe? It's going to happen Joe? This is not April, it's the postseason. This is not the time to spot the Twins or the Rays seven runs in two innings.
Burnett was equally in denial when talking to reporters after yet another atrocious performance on Monday. "The way my season's been, I'm not going to let it affect me," said Burnett, who is 10-15 with a 5.33 ERA. "I've been through way worse nights than tonight, and I'm going to have way worse nights than tonight. It's a matter of turning the page and getting over it, realizing what went wrong and fixing it.
How ridiculous is that? The problem with A.J's outlook here is that it does not bother him. He is not doing anything to make the necessary changes, whatever they might be. How can one expect to get a different result if you continue to do the same thing? He claims that he has had way worse nights than that on Monday, and he might have but not by much. He also claims that he will have worse nights to come than Monday. Problem is that this is the wrong time of year for him to prove that statement.
Yankee Manager Joe Girardi will be tinkering with the starting rotation for the post season sometime this week and the thought of using Burnett at all must have him reaching for his lifetime supply of Tums.
Sabathia, Pettitte, and Hughes make three-quarters of that decision easy. Ivan Nova has proven he can pitch effectively, aside from a random inning meltdown, and Dustin Mosely's 4-3 record with a 4.93 ERA make him appear to be Cy Young in comparison to Burnett at this point. Still, the last thing Girardi wants to do is rely on Nova or Moseley, when he is supposed to have an $82.5 million stud in the No. 2 hole with the nastiest curve ball in the game.
Girardi has options. They are not pretty, but they won it all last year with far less. The post season is not a time to hope A.J finally lives up to his ability. It's a time to perform at a level that Burnett is not capable of.
If the Yankees have any hope of repeating this season, Burnett cannot be a part of it. He cannot even be trusted to come out of the pen after lasting only 2.1 innings and giving up seven runs in his last outing.
Burnett starting in the postseason…Say it ain't so Joe?
Read more New York Yankees news on BleacherReport.com