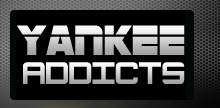 News published by
October 20, 2011
Have you ever tried playing Arm Chair GM when it comes to your favorite sports team? You know like wondering what the team could do to win and what moves ...
October 8, 2011
The Yankees "Mission Statement" is to win it all every year, and when that fails to happen the entire season is a failure.The Yankees know that it's not a realistic ...
August 25, 2011
Curtis Granderson, who has overcome his demons against left-handed pitchers, has put together the best season of his career thus far and has become a serious and legitimate contender to ...
August 13, 2011
Brian Cashman is in the final year of his current contract as General Manager of the New York Yankees.Some hope he will resign.Quite possibly, more are praying to whatever Gods ...
July 18, 2011
The New York Yankees, the premiere franchise in all of sports and the one team that everyone loves to hate, is seeking pitching help on their way to the playoffs.Color ...
July 15, 2011
It's that time of year in baseball where there is more fact that fiction. It's always fun to opine and speculate on all the possibilities of your favorite, or not ...
July 14, 2011
 The New York Yankees, intent on bolstering their pitching arsenal for the second half of the season, just acquired former National J.C. Romero  signing him to a minor league deal, according to ...
July 13, 2011
The New York Yankees have defied all expectations for the first half of this season, hanging tight and challenging the Red Sox for the division despite not being able to make the offseason splash, ...
February 10, 2011
Unless you have been living under a rock you already know the deal. The New York Yankees' main focus in this past offseason was to acquire starting pitching. Brian Cashman's ...
February 5, 2011
Andy Pettitte announced his retirement this past week. Is he done for goodOnly Andy knows but something tells me the answer is no. Pettitte is competitive and the draw of ...