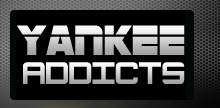 May 27, 2009 · Todd Civin · Jump to comments
Article Source: Bleacher Report - New York Yankees
As a writer, I often feel a bit disingenuous taking credit for my stories. All too often a story that I didn't even know was inside of me seems to flow out of my very being.
Readers occasionally applaud me for what I've written and I am truly humbled. I rarely see the work as a product of my talent, but more as me being the mouthpiece of a far Greater Being.
Don't shoot the messenger, but don't praise him either.
I am the scribe and He is the author.
This story is no different.
Yesterday, I was brought to Jimmy Scott's High and Tight Web site. I can truly tell you that despite the fact that I have been writing sports for some time now and have visited hundreds of sites, I'd never visited Jimmy Scott's popular and well respected site.
I'm now a fan.
As expected, I was guided to the site with a purpose. An article that Jimmy Scott had written took me by the hand and grabbed my attention.
The article was about a children's book called, "A Glove of Their Own."
From his article, my journey continued to the site of the book.
"A Glove of Their Own"
, which is a finalist for the Foreword Magazine Book of the Year" has been supported by companies such as Louisville Slugger, Rawlings, Upper Deck and Modell Sporting Goods, as well as players like Ken Griffey, Jason Grilli and manager Joe Torre.
I'm not even certain why it grabbed my attention. I'm not a very intellectual man so it very well could have been the fact that a kids' book arouses my interest.
It was of course, about my passion, baseball, so that too is a personal attention grabber.
The book is perhaps the best piece of children's literature I've ever read and is a MUST for every child, school, church or civic organization. Moreover, it is a great read for not just children, but for the child in all of us.
As one reader on the "A Glove of Their Own" website wrote,
To the Staff of "A Glove of Their Own":

I am a 61 year old male who recently purchased your book. I plan to give it as a gift to my son with the design that he will share it with our grandson to advance a message of what the game has to offer all of us: it's history, structure, purpose, culture, significance, and more importantly what can be learned from it.
I began reading the book in the store where I purchased it and began to get somewhat emotional as it "flashed" me back to my youth, and how I spent many a day playing with friends and rivals the game that has meant so much to me in my lifetime. As a result, I have tried to communicate the game and it's merits to my son over the years, and this book has in a strong way rekindled the significance of what I did, and enjoyed as a youth, and what I am encouraging my son to "pass on" to another generation.
This book, the short read that it is, has to be one of the most moving pieces of literature about the game, creatively crafted so that anyone who knows anything about the game can understand just a little better that it truly is a "kids game", but also delivers a companion message that can be understood and practiced by everyone.
Congratulations on a great piece of work! Ken Bernabe
As enjoyable as the book is, however, I'm certain that it was the spirit of the book that ultimately "had me at hello."
"A Glove of Their Own" is a warm and heartfelt tale of a man who finds himself watching a children's baseball game. The players in the game love the sport, as he does, but have no equipment. He finds it in his heart to "pay it forward" and give of himself for the pure joy of giving. Not with hopes of receiving anything in return.
This is, of course, the true spirit of life. The spirit that each and every one of us is supposed to feel. The spirit of honest to goodness unreciprocated giving.
Well, in and of itself, that is enough to grab my attention. Then I read further.
"A Glove of Their Own" has become more than just a book, but is a movement that is sweeping the world by storm. The organizer of the movement, Bob Salomon explains his "Journey" as follows:
"I have joined three talented authors and one illustrator because this book is the beginning of a movement that, as a father and a coach, I believe in.
The idea for this story, born from a child's birthday party and a desire to ensure all children have equipment and a chance to play, has gained enormous momentum and national support.
As grateful as I am for that notoriety, it is Debbie Moldovan, Keri Conkling and Lisa Funari-Willever who first believed in the vision of this dream. They are three amazing women, each one unique in their own talents. I am fortunate to have them as colleagues and blessed to call them friends.
Together, we have been humbled and overwhelmed by the support of individuals, Fortune 500 companies, non-profit organizations, professional athletes and kids who simply dream of becoming athletes.
Giving back and extending friendship is written between the lines of this story; a story of kids who play with little, worn-out equipment, without coaches or concession stands, all for the love of the game.
Our goal is to raise awareness, raise funds, and motivate everyone to play the game forward. Whether you donate your old equipment, organize a community collection, or donate funds to these dedicated organizations, you will have made a difference to a child.
Thank you to our fans and supporters during this exciting time in our lives!"
"Play It Forward!"
Salomon and the organization known as "A Glove of Their Own" represent the good guys. The people who simply do the right thing because, well, it's the right thing.
As you can tell from my ringing endorsement of the cause, I drank the Kool-Aid. Shivers went up my spine as I visited the many links on the Web site and read the text of the story itself.
Salomon goes on to explain:
"Beyond the words of this book is a deeper meaning of the mission behind "A Glove of Their Own." We are eager to teach the next generation the importance of giving back by becoming aware of those around us who would otherwise go without. This book is the vehicle that will drive us to deliver new and used sporting goods equipment or funds to children in need."
Proceeds from each sale of the book is donated to organizations that make sure children across the nation have a glove of their own.
In addition, $3 per sold book will be given to any school or non profit organization that joins "A Glove of Their Own" by selling the book.
This is referred to as a win, win, win, and represents the true spirit of "Playing it Forward."
I urge you as a baseball fan, a parent, a coach or a human being to visit "A Glove of Their Own" and to either purchase the book for your child or to turn on your organization to sell the book to others.
I'm going to end with my favorite story called "Make a Difference"
A man was walking along the beach as the powerful tide washed in. He spotted another man a ways down the beach. He bent down repeatedly and picked up starfish that had been beached as the tide washed in. One by one he'd pick up the starfish and toss them back into the surf, only have dozens of others wash ashore in it's place.
The first man approached the latter and said, "What are you doing? Can't you see that your efforts don't make a difference?"
The second man smiled and bent down and picked up another starfish. He tossed it into the current and said, "Made a difference to that one, didn't it?"
Make a difference. Play it Forward.
Todd Civin is a writer for the Bleacher Report. Feel free to send comments or story leads to toddcivin1@aim.com. Bob Salomon can be reached at AGOTOTELLUS@aol.com to inquire about "A Glove of Their Own" or to have your organization added to the list of organizations who can benefit from sales of the book.