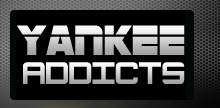 February 24, 2010 · Bronx Baseball Daily · Jump to comments
Article Source: Bleacher Report - New York Yankees
Christian Garcia is a 24-year-old right-handed pitcher with a mid-90s fastball, one of the best curveball's in the Yankees system, and a strong changeup. He's just about proven everything in the minor leagues except the ability to stay healthy.
He was expected to start last season with the Trenton Thunder with a good chance that he would have the opportunity to advance to the Scranton Yankees and even make it to the Bronx if he did well enough. Instead, he dealt with a sore shoulder from the start and only managed to throw 25.1 innings all season.
The silver lining was that Garcia dominated, although he had slight control problems, and his fastball was slightly slower than usual. Yet he managed a 0.71 ERA. Garcia still hasn't managed to throw at least 100 innings since 2005, but all signs were that he would finally enter the 2010 season completely healthy.
Well, that dream didn't last long. Here is an excerpt from the Journal News ' Chad Jennings:
Girardi didn't provide many details, but minor league right-hander Chris Garcia sat out today's bullpen session because of some pain in his elbow. Good news is he's expected to play catch tomorrow. I don't really know Garcia at all, but I'd love to see him get through a healthy season just to show what he can do, for better or for worse.
If he's got some elbow pain it means he hasn't turned the corner and his 25 innings last season were pitched in pain. Just because he's throwing tomorrow doesn't mean he's going to throw pain free. For a guy who hasn't been able to stay on the mound almost at all since 2006, it is not a good sign.
It would have been nice to see him put together a full season. Maybe he still can, but I'm not getting my hopes up.
Related Stories
Read more New York Yankees news on BleacherReport.com