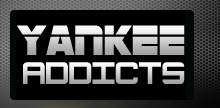 April 22, 2010 · Christopher Chavez · Jump to comments
Article Source: Bleacher Report - New York Yankees
The New York Yankees accomplished a rare feature in their 4-2 loss against the Oakland Athletics on Thursday afternoon. Pitcher CC Sabathia was pitching very well, but did not get enough run support to top the A's.
Sabathia pitched to Kurt Suzuki. The ball was chopped to Alex Rodriguez, who rushed to third and stepped on the bag to get Daric Barton out.
Rodriguez then beamed the ball nicely to Robinson Cano awaiting at second base to force Ryan Sweeney out.
Second Out!
From there, Cano quickly threw to Nick Johnson at first base. With the closure of his glove with the ball within, Kurt Suzuki was gunned out.
Third Out!
With that play the Yankees nailed their first triple play since June 3rd, 1963 against the Minnesota Twins. At that time, Mickey Mantle was playing first base for the Yankees.
The Yankees have an excellent infield, and that play was just an excellent example of how great the defense is. The Yankees are definitely the cream of the crop in the American League East in regard to defense in the infield.
Read more New York Yankees news on BleacherReport.com