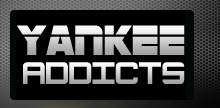 December 7, 2012 · Zachary D. Rymer · Jump to comments
Article Source: Bleacher Report - New York Yankees
The New York Yankees have yet to make a splash this winter. In fact, they've barely made a ripple.
The Bombers have managed to solidify their pitching staff by retaining Hiroki Kuroda, Andy Pettitte and Mariano Rivera, but they stand to lose Rafael Soriano and Nick Swisher and are probably going to be missing Alex Rodriguez until June.
Let's not kid ourselves here. This is not a team that's getting better. This is a team that's getting worse. If the Yankees want to live to see the playoffs in 2013, Brian Cashman needs to do something.
Or several somethings, for that matter.
A few doors have already closed on the Yankees this winter, but they still have holes to fill and there are still plenty of players out there they can acquire to shore up their chances of playing in October in 2013.
Here's a few ideas.
Note: Stats courtesy of Baseball-Reference.com unless otherwise noted. Salary information courtesy of Cot's Baseball Contracts.