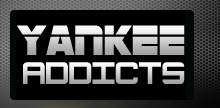 April 18, 2013 · Jason Martinez · Jump to comments
Article Source: Bleacher Report - New York Yankees
Considering all the injuries the Yankees have been forced to overcome early in the 2013 season, they're still 8-5 and just a game-and-a-half out of first place in the AL East.
With shortstop Derek Jeter's return on the horizon from an ankle surgery—the early estimate had been May 1—things were looking even better. The 38-year-old might not make it back, however, until closer to June 1, and maybe even later in the season with news that he's eased up on his rehab and isn't close to playing in games (per Andrew Marchand of ESPNNewYork.com).
While the Yankees aren't calling it a setback, the fact that they do not have a very good idea on when he will return has to cause some concern. The 13-time All-Star, who has been on 17 winning Yankees teams in 17 seasons since his rookie year back in 1996, was still a very productive player last season. Jeter led the majors with 216 hits last season and also had 15 homers and was seventh overall in AL MVP voting.
Without him and other injured players like Curtis Granderson, Alex Rodriguez and Mark Teixeira, the Yankees' streak of consecutive winning seasons is in danger despite the strong start.
Jeter's replacements, Eduardo Nunez and Jayson Nix, are off to a 10-for-42 start with one homer, one double, two walks and 11 strikeouts. Unless they expect designated hitter Travis Hafner (1.142 OPS) and outfielder Vernon Wells (.971 OPS) to continue putting up huge numbers and carrying the offense, they're going to need some more help eventually.
The Yankees could use an upgrade at the shortstop position, likely for at least another 30-45 games. Would the Yankees consider acquiring a short-term fix to ensure they're giving themselves the best chance to stay in the playoff race before Jeter can return to the lineup? In a tight race, a few games in the standings can mean the difference between a playoff spot and going home after game 162.
Here are three players who are worth at least asking about.
Everth Cabrera, San Diego Padres
The Padres are coming off of a three-game sweep of the division rival Dodgers, and Cabrera is off to a terrific start on the season (.850 OPS, .394 OBP, 2 HR, 11 R, 8 BB, 4 SB). They also don't have much depth at shortstop, so it's unlikely they'd trade the 26-year-old switch-hitter anytime soon.
On the other hand, they're 5-10 on the season and could be more willing to make a deal involving Cabrera if they struggle over the next few weeks and fall into a double-digit deficit in the NL West. They're currently 5.5 games behind first-place Colorado.
If Jeter's timetable is pushed back any further, Cabrera could be the spark plug the Yankees need at the top of their lineup for a month or two. Brett Gardner has led off in each of the team's 13 games and has a .333 on-base percentage without a stolen base attempt.
Acquiring Cabrera would also give the team an option at shortstop for 2014 should Jeter retire or should Robinson Cano depart as a free agent.
Dee Gordon, Los Angeles Dodgers
OK, so Gordon's not even good enough to play on a team that's currently using Justin Sellers at shortstop. At least he probably wouldn't be too hard to pry away from the Dodgers, right?
Adding Gordon would be all about trying to catch lightning in a bottle for a short period before Jeter returns. In September 2011, the speedster hit .372 (42-for-113) with seven doubles and 12 stolen bases. Hey, maybe he has that in him again and a change of scenery would help do the trick.
The 24-year-old is currently hitting .319 (15-for-47) with five doubles, five walks and eight stolen bases for Triple-A Albuquerque.
Jurickson Profar, Texas Rangers
Shortly after the Rangers inked starting shortstop Elvis Andrus to a long-term extension, I floated some trade ideas for Jurickson Profar, and the Yankees were one of the teams on my list.
A four-for-one deal that would send top catching prospect Gary Sanchez, center fielder Slade Heathcott, lefty starter Manny Banuelos and potential closer Mark Montgomery to the Rangers was my proposal for Profar, who is considered the top prospect in baseball and might be one of the lone players in the game worthy of being Jeter's predecessor. That's a lot of talent to trade away for another prospect, but replacing Jeter when he retires won't be easy.
The deal would probably make more sense after the season once they have a better idea on Jeter's future, but the current situation makes it worth at least exploring in the near future.
Read more New York Yankees news on BleacherReport.com