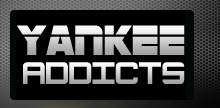 May 31, 2013 · Anthony Maimone · Jump to comments
Article Source: Bleacher Report - New York Yankees
With the 2013 Major League Baseball draft less than a week away, the New York Yankees have a rare opportunity to load up on some first-round talent.
Thanks in large part to Nick Swisher and Rafael Soriano turning down qualifying offers this past offseason, the Yankees will pick three times in the first round.
With all of their picks being toward the end of the first round and with their normal spending abilities, the Yanks can reach for several players who may have slipped in the draft.
The Yankees have typically liked to look at pitchers early in the draft as General Manager Brian Cashman fully believes in the mantra that you can never have enough pitching.
With that said, there seems to be a solid consensus from several baseball experts, including Bleacher Report's Mike Rosenbaum, that the Yankees will target local product Rob Kaminsky.
MLB.com's Jonathan Mayo and Baseball America's Jim Callis both consider Kaminsky too polished of a pitcher to pass up on that late in the first round. The lefty has a plus fastball and the ability to move up within the organization faster than most kids drafted out of high school.
If there is another prospect in this draft sought after by the Yankees as much as Kaminsky is, then that player is definitely the high school catcher out of Oklahoma, Jon Denney.
Callis and Mayo once again agree on a player the Yankees will try their hardest to get. This time around they are joined by ESPN's Keith Law (subscription required).
Law sees Denney as a potential top-10 talent who is suffering a setback due to a rough spring both offensively and defensively. The Yankees have a rich history of drafting catchers with a big stick and likely would not pass on Denney.
Outside of Kaminsky and Denney, experts seem certain on one other draft strategy for the Yankees. The Yanks will look to shore up the left side of their defense.
Both Adam Wells and Mike Rosenbaum believe the Yanks will use one of their picks on college third baseman Eric Jagielo. Jagielo would be one of the "safer" first-round picks the Yanks could make.
If the Yankees want to get serious on finding the future replacement for Derek Jeter, both Law and Gray believe they can in this draft, just with different players.
Law likes high school shortstop Dustin Peterson. Meanwhile, Gray loves the athleticism that another high school shortstop, Tim Anderson, can bring to the table.
The bottom line with the Yankees is that they need to nail this draft. With those three first-round picks it is clearly the first step to locating the group of players that can help transition the current Yankees roster from the old guard to the new.
Read more New York Yankees news on BleacherReport.com