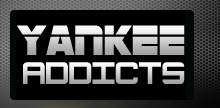 December 23, 2011 · Kate Conroy · Jump to comments
Article Source: Bleacher Report - New York Yankees
The silence of this offseason is starting to go from calm to eerie, as the New York Yankees have hardly budged.
Other than giving ace CC Sabathia a new contract, almost too efficiently, and inking pitcher Freddy Garcia for another go, nothing has changed.
The necessity for another starting pitcher, as well as another lefty for the bullpen, has not disappeared, so why have the Yankees not even been a threat in tackling the free-agent market?
Seriously, the Yankees low-balling in the Yu Darvish bidding must have been a joke. As honestly, why even bother submitting a number reported to be under $20 million bucks? Just for giggles?
I get that the payroll is already huge, but this is the Yankees and Sabathia's raise annually is only a few million, so where did the Cliff Lee money go?
By no means do the Yankees need to hand out a Lee-type contract, and not because of what the free agency lacked, but because the team doesn't need to go that big to improve.
No one is losing sleep over not seeing CJ Wilson or Mark Buehrle in pinstripes, but the fact the Yankees have not even contacted Roy Oswalt is alarming.
Oswalt is a 34-year-old star with a terrible back injury history, so at the start of the offseason, it came as no shock that not one GM budged when the rumor was Oswalt was looking for a three-year deal.
Well, that is not the case anymore as two-days ago ESPN's Jerry Crasnick tweeted: "Oswalt wants to show his back is healthy, have a big year and go back on the market and try to get a multiyear contract next winter."
Finally, Oswalt had come to his senses, so I waited with anticipation for some Yankees buzzing to start, but nothing.
Oswalt's agent has even confirmed to ESPN New York that his client was "interested" in pitching in the Bronx, so why have the Yankees have not pounced on this?
Oswalt has an injury history, but so do Garcia and Bartolo Colon, so this makes no sense.
Yes, Oswalt would command around $7 million, but the fact he is willing to sign for one year to "prove himself" is enough said.
This is the ideal situation for the Yankees, as a trade isn't happening because the reality is Cashman is not going to part with any legit prospects. This is another Yankee thing I don't get, because why stock the farm system just to hoard it, but that bag of worms is for another time.
Right now the two facts are:
1) Oswalt, who is over-the-top competitive to begin with, wants to prove his worth again for one season.
2) The Yankees have done absolutely nothing, again.
So my question is, what is really going on in the Bronx?
Is the answer the prospects that we are never going to see, or Colon? Because it seems to be what the 2012 season is resting on at the moment, and that is not comforting at all.
At this rate my post called "Red Sox Been Caught Stealing", about losing Andruw Jones to Boston is could actually be happening, as the Yankees haven't done squat. And Jones was great and cheap, so what are they waiting for here?
Hey, just maybe the Yankees are pulling a Lee by secretly going after Phillies' Cole Hamels?
Normally that question would not be a joke.
So, please…could someone explain to me why I am still under the impression that the Yankees want to win championships every season?
Read more New York Yankees news on BleacherReport.com