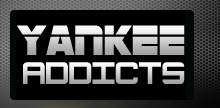 November 3, 2010 · Kate Conroy · Jump to comments
Article Source: Bleacher Report - New York Yankees
Texas Rangers ace Cliff Lee had been as close to superhuman as the baseball world had ever seen heading into the 2010 World Series with a 7-0 record.
MLB players and fans all around the world were in awe of Lee, and the fact that he was fair game after the conclusion of the World Series just added to the dynamic fascination.
With every postseason start, Lee's worth was climbing at rapid speeds. GM's were drooling for the second post season in a row watching Lee's domination batter after batter. From Yankees to Phillies to Rays, no one was safe.
Hence, this World Series was the last stage before the battle for Lee could start. On the path Lee had been on, nothing seemed too grand except the zeros on his contract that were becoming endless.
As Game 1 began, fans watched in utter disbelief, and what nobody thought could ever happen…did. The great Cliff Lee lost. It was so ugly he was pulled in the fourth inning, after giving up six earned runs and only striking out seven.
Lee did not just lose once, but again in Game 5 on the biggest stage in baseball.
Lee's first loss in Game 1 of the World Series could have easily been forgotten, brushed off as a bad day that is beyond acceptable.
Many are claiming Lee's Game 5 loss cost the Texas Rangers the World Series.
Why?
Due to an avoidable and selfish choice made by Lee to stick to his motto of "I don't walk any batters," that lead to the only hit, a three-run bomb, needed by the Giants to win the World Series.
Should the Yankees be more concerned about Lee's stubborn attitude than his choking under pressure?
The Rangers needed Lee more than ever to be perfect, and he blew it on one bad pitch. It happens all the time during the season, but this was the World Series and all the Rangers dreams were what were at stake.
It is a fact that Rangers catcher Bengie Molina wanted Lee to walk the hitter and was confused when Lee did the contrary. Considering it was the eighth inning of the World Series and Texas were down 3-1 in games. The Rangers were playing with backs shoved against the wall—with no breathing room in site.
Why would you risk this game with no score on the board for either team?
Did Lee need to prove he could strike out anyone in baseball? Lee had been flawless, but that became untrue five days prior. so why test the waters in Game 5?
Who knows.
Lee did make a grave mistake that will inevitably cost him, either less years or less money. No doubt, Lee exposed a risk that played a major factor in the Rangers World Series loss and the Giants win.
That is two postseasons in a row that Lee wins but the uniform he is wearing doesn't. Now that has even taken a turn for the worst as both Lee and the team lost in the end this time, which makes you wonder if things are just going to get worse from here.
Questions about Cliff Lee's worth have arisen—whether he's too much of a risk or if he can ultimately be a teammate that can help win a title.
Truth remains that Cliff Lee is not just a show pony, the man is as talented as I have yet witnessed as a fan. Lee's last two starts surely didn't help his cause, but it did bring him down to earth and nothing wrong with a little humbling.
For now, fans will wait because only time will tell where Cliff Lee will bring his talents next season.
With the Lee bidding about to begin…fans should get ready for some good old baseball offseason drama.
One that I'm hoping ends with Lee's left arm in pinstripes.
Read more New York Yankees news on BleacherReport.com