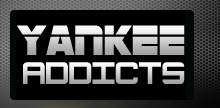 April 5, 2010 · Bronx Baseball Daily · Jump to comments
Article Source: Bleacher Report - New York Yankees
The Yankees' season officially kicked off Sunday night as they lost to the Boston Red Sox, 9-7, and the minor league affiliates are set to get going next.
Here is the Double-A Trenton Thunder roster via Mike Ashmore:
PITCHERS (13): Cory Arbiso, Wilkins Arias, Jeremy Bleich, Noel Castillo, Wilkin De La Rosa, Grant Duff, Christian Garcia, D.J. Mitchell, Lance Pendleton, David Phelps, Ryan Pope, Josh Schmidt, Eric Wordekemper

CATCHERS (2): Jose Gil, Austin Romine

INFIELDERS (7): David Adams, Neall French, Brandon Laird, Luis Nunez, Kevin Smith, Justin Snyder, Marcos Vechionacci

OUTFIELDERS (4): Daniel Brewer, Edwar Gonzalez, Austin Krum, Damon Sublett
As Ashmore noted, this is 26 players for what will eventually be a 24-man roster. This means two players are going to have to be trimmed before this becomes an official roster. That could be players added to the DL or it could be players sent down to lower levels.
Thoughts
This team has some serious talent, and it's nice to see some of the Yankees prospects making it closer to the major league level. Among the better prospects include Austin Romine and the starting rotation, Christian Garcia, D.J. Mitchell, David Phelps, Jeremy Bleich, and Ryan Pope.
Of those players you can expect that Garcia and Bleich should be promoted to Triple-A Scranton if they play well. The others, if they play well, may take a bit longer to get promoted.
David Adams, Brandon Laird, and Dan Brewer are also a few to keep an eye on. Other, more longshot prospects include Wilkin De La Rosa, Grant Duff, Marcos Vechionacci, and Damon Sublett.
Sublett and Vechionacci are two players who at one point were much more serious prospects, but have taken a step back. I would say 2010 is a pretty important year for each of them as another bad season would almost certainly doom their possibility to make it within this organization.
Related Stories
Read more New York Yankees news on BleacherReport.com