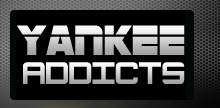 April 2, 2010 · Bronx Baseball Daily · Jump to comments
Article Source: Bleacher Report - New York Yankees
Just two days until opening day and the Yankees roster is just about set, which means that the Scranton Yankees roster is nearly close to finished as well. Donnie Collins of the Scranton Times-Tribune has a pretty good rundown on what we should expect in the Electric City.
I feel like his Scranton roster is filled more than ever with players who might make it to the Bronx in some form or another. A guy like Jesus Montero could have starting roles by September, and infielders like Kevin Russo or Eduardo Nunez could even be filling valuable bench roles. I think that just about every pitcher has potential to get called up at some point throughout the season.
Collins included the asterisks as the guys he isn't certain will make the team. Boone Logan could certainly find himself in the Bronx on opening day with the latest news about Damaso Marte 's sore shoulder.
On to the roster:
CATCHER
Jesus Montero
Mike Rivera
INFIELD
Juan Miranda
Reegie Corona
Eduardo Nunez
Kevin Russo
Jorge Vazquez
OUTFIELD
Greg Golson
Colin Curtis
Jon Weber
Reid Gorecki
David Winfree
STARTING ROTATION
Jason Hirsh
Dustin Moseley
Ivan Nova
Romulo Sanchez
Zach McAllister
BULLPEN
Jonathan Albaladejo
Mark Melancon
Amaury Sanit
Royce Ring
Kei Igawa
*Boone Logan
*Grant Duff
Related Stories
Read more New York Yankees news on BleacherReport.com