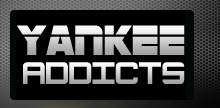 March 3, 2010 · Bronx Baseball Daily · Jump to comments
Article Source: Bleacher Report - New York Yankees
Listed at 6′0″ 190 lbs., the Yankees drafted Colin Curtis in the 4th round of the 2006 draft out of Arizona State University. Just being drafted was an accomplishment for Curtis, who was diagnosed with testicular cancer in 1999.
Now 25 years old, he's a plus defensive outfielder who can play all three outfield positions. Neither his arm nor his range are exceptional, but the way he hustles out on the field allows him to occasionally make a great play. He has decent speed, but his days as a burner ended when he left college. He'll still swipe bags, but he shouldn't be expected to steal in double digits.
He has good discipline at the plate, but has never been overwhelming with his bat and his power has never developed like many thought it would early in his career.
While none of his tools are overwhelming, they are all there, but because of his age and his numbers, he needs to take another step or risk being a career minor leaguer.
His best season statistically was probably in the beginning of 2007 while he was with the single-A Tampa Yankees, where he had a .790 OPS over 65 games. The jump to double-A Trenton didn't go as well for Curtis as he finished the season putting up a .627 OPS in 61 games there.
Thanks to those poor numbers he stayed in Trenton to start the 2008 season and after only managing a .697 OPS that season, he started 2009 in Trenton again. He was finally called up to triple-A Scranton midway through the 2009 season. Here he continued to disappoint statistically with a .235 average and a .649 OPS. Then Curtis teased us all with the Surprise Rafters in this past Arizona Fall League with a .397 average and a 1.205 OPS.
2010: A lot of what happens to Curtis this season will depend on whether those AFL numbers were a fluke or not. His 2009 season was bad enough that he went un-drafted in the Rule 5 draft this offseason. So obviously his numbers were viewed by many to be a fluke, but for some in the Yankees organization, those numbers were a long time coming.
Curtis also made some adjustments after his 2009 season went as badly as it did. He changed his stance, making himself more upright and copied his swing from his high school days.
I don't think that Curtis has much of a chance to make the Yankees out of spring training. That roster spot will likely go to either Jamie Hoffmann or Marcus Thames. But the Yankees will be keeping a close eye on him especially if Hoffmann or Thames starts off slowly.
The most likely scenario of him making the Yankees this year involves them deciding in favor of Hoffmann, Thames opts-out of his deal, and then Hoffmann proves he isn't quite ready. In that case Curtis may be their best outfield option. If by that point he proves that his time in the AFL wasn't a total fluke, he could be a real option to be called up. How likely that scenario is, is very hard to say, but probably not very likely. If he is on the 40-man roster by the end of the season, expect to see him as a September call-up at the latest.
Click here for Curtis' stats.
Related Stories
February 26, 2010 — Ranking the Outfield Depth (2) January 12, 2010 — Projecting the Triple-A Roster (4) December 31, 2009 — Newman's Notes on Yankees Prospects (0) December 11, 2009 — Yankees Lost 2 in the Rule 5 too (1)
Read more New York Yankees news on BleacherReport.com