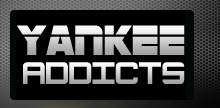 March 16, 2010 · Joseph DelGrippo · Jump to comments
Article Source: Bleacher Report - New York Yankees
The New York Yankees are usually one of the teams where most, if not all, the 25-man roster spots are already accounted.
But, as is the case with a team based in New York, the hype does follow the younger players. Many times this hype is unwarranted.
In the case of these young Yankee players, it might be justified.
This list is not predicated on which Yankee farmhand is the best prospect or will make the most impact on the major leagues.
Jesus Montero is the best prospect and will make the most impact.
But he is NOT on this list. He just has not played enough so far this spring, plus everybody knows of his vast hitting talents.
This list represents the players who may or may not be impact guys down the road, but who General Manager Brian Cashman and field manager Joe Girardi feel can help the 2010 team.
All but one could get a taste of the Bronx sometime this season.