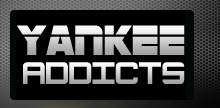 February 13, 2010 · Bronx Baseball Daily · Jump to comments
Article Source: Bleacher Report - New York Yankees
As the 2009/2010 offseason comes to an end we here at Bronx Baseball Daily have been running through the Yankees roster and previewing each player. We take a look at their 2009 season and what their 2010 expectations will be.
This is a very strong team that compares favorably to the 2009 World Champions so let's take a look a bit closer. They certainly should be able to defend their title as long as they stay healthy.
We've covered 15 players so far:
Catchers
Jorge Posada
Infielders
Mark Teixeira
Robinson Cano
Derek Jeter
Alex Rodriguez
Outfielders
Nick Swisher
Brett Gardner
Curtis Granderson
Randy Winn
Pitchers
CC Sabathia
AJ Burnett
Andy Pettitte
Javier Vazquez
Joba Chamberlain
Boone Logan
Coming up in the near future:
Catchers
Francisco Cervelli
Infielders
Ramiro Pena
Juan Miranda
Outfielders
Marcus Thames
Jamie Hoffmann
Pitchers
Phil Hughes
Mariano Rivera
Damaso Marte
David Robertson
Alfredo Aceves
Mark Melancon
Chad Gaudin
Royce Ring
Read more New York Yankees news on BleacherReport.com