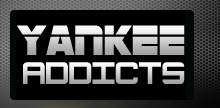 February 17, 2010 · Perry Arnold · Jump to comments
Article Source: Bleacher Report - New York Yankees
When the New York Yankees won their 27th World Series crown in November, they did so with a 35-year-old designated hitter, a 36-year-old left fielder, a 37-year-old catcher, and a closer who would turn 40 just a few days after the Series ended.
Two of those guys are gone now and two return a little older.
The Yankee infield will not change for 2010 as Mark Teixeira, Robinson Cano, Alex Rodriguez, and Derek Jeter offer not only consistency but unmatched talent around the horn.
Teixeira will turn 30 during Spring Training. Cano turned 27 just before the World Series began. Jeter will attain the age of 36 in June, and ARod will be 35 in July.
In the outfield, the Yankees got younger with the acquisition of Curtis Granderson, who will turn 29 next month. If one considers that Granderson replaces Damon, the Yankees got six years younger at one of the outfield positions.
But the Yankees traded Melky Cabrera who finished the year as the starting center fielder. Cabrera will not turn 26 until August despite already having played four full seasons in the major leagues.
The replacement for Cabrera will either be Brett Gardner or Randy Winn.
Gardner is almost exactly one year older than Cabrera but only has 150 major league games under his belt.
Randy Winn, who was signed as a free agent after playing several years for the Giants, will turn 36 in June.
Nick Swisher fills out the outfield and is only 29.
Whether the Yankees get younger will depend on whether Brett Gardner joins Curtis Granderson in the outfield.  If Randy Winn gets the nod to start in left field, the Yankees have actually gotten older as an overall team.
Winn is the same age as Damon, but Granderson is older than Cabrera whom he will replace in center.
The Yankees got considerably younger at designated hitter when they replaced Hideki Matsui, 36, in June, with Nick Johnson who will not turn 32 until September. Matsui had had serious problems with two surgically repaired knees.
But Johnson has also had a history of various injuries that have reduced his playing time in recent years. Yankees' brass hope Johnson's insertion as the primary DH will allow him to play more consistently.
Having a catcher who will turn 38 in August would bring many concerns to any team. But Posada has already said he will not catch more than 120 games this season.
In 2009, the primary replacement for Posada was Jose Molina, who became the boutique catcher for AJ Burnett in the postseason.
Molina, who will turn 35 in June, will be replaced initially by Francisco Cervelli who is just 24.
And if Cervelli does not fit the bill, the Yankees may look to give minor league sensation Jesus Montero a shot. Montero just turned 20 in November.
The Yankees' mainstays in the pitching rotation for 2009 are back. CC Sabathia will be 30 in July, AJ Burnett turned 33 in January, Andy Pettitte will be 38 in June, and Joba Chamberlain turned 24 in September. 
The new addition to the Yankee staff is Javier Vazquez, acquired from the Braves, who will turn 34 in July.
The oldest pitcher on the Yankee staff is the most important. In November, closer Mariano Rivera turned 40. He shows no signs of slowing, but at some point there has to be an effect of aging, even with Mo.
The other bullpen pitcher with some age is the only lefty reliever on the 25-man roster. Damaso Marte turned 35 on Valentine's Day and has had some arm problems. In 2009, Marte missed four full months with injuries.
All other bullpen pitchers are young, ranging in age from 23 to 29.
The Yankees have talked in recent years of wanting to get younger, but Brian Cashman's goal may not have been obtained.
When you enter a season with a 37-year-old catcher, a 35-year-old shortstop, a 37-year-old starter and a 40-year-old closer, there have to be some concerns.
AARP may not be sending applications to the players' mailboxes just yet, but somebody with the retirement group has probably already noticed that the Yankees are aging.
Read more New York Yankees news on BleacherReport.com