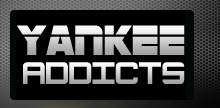 March 4, 2010 · Dan Hanzus · Jump to comments
Article Source: Bleacher Report - New York Yankees
It's March, which means three things: 1) A friend or family member will do something (or someone) they regret on St. Patrick's Day; 2) Your genius will betray you in the form of busted NCAA brackets; and 3) You have a fantasy baseball draft on the horizon.
If you're a serious fantasy player—and not that hack from accounting who asks if A-Rod is available in Round 7—this means you've already begun preparation for the big day.
Everyone's draft strategy is more or less the same. You have your first-pick golden boy, the early-round targets, the sleepers who aren't really sleepers, the legitimate sleepers, the narcoleptic sleepers, and finally, the old reliables, i.e. players who seem to land on your roster year after year.
Nick Johnson has always been one of those guys for me.
Due to his injury history, he's typically avoided like an envelope of anthrax on draft day. As a result, I usually end up grabbing him in the 11th or 12th round, subsequently enjoying the 400 or so quality at-bats he manages to churn out between DL stints.
How popular is the husky designated hitter in my fantasy world? In 2006, I christened my team Nick Johnson's Rib Shack. This was based on the assumption that Nick enjoys pork products in mass quantities.
It could be more difficult landing Johnson this year. He's a Yankee now, and that tends to bump up a player's value on draft boards.
The logic is simple: The Yankees are perpetually amongst baseball's highest scoring teams. In fantasy terms, drafting a Bronx Bomber is generally a safe bet…unless he's Jose Molina.
Please understand I'm not suggesting that you draft Nick Johnson. I have no idea how he'll fare, and I lump "fantasy experts" into a group that includes Zoltar, Lady Cleo and Punxsutawney Phil.
What I can say is that the same factors that make Johnson a tempting fantasy player also point to him being an ideal fit in the Yankees' loaded lineup this season.
Think about it: This is a professional hitter, a player who finished second behind some dude named Pujols in OBP last season. Now you're slotting him behind Derek Jeter and in front of Mark Teixeira and Alex Rodriguez?
That's a Hall of Fame sandwich, my friends.
Barring a complete evaporation of skills—or a sudden retirement to join the PBA Tour—how does Johnson not thrive this season? I feel like I could bat .260 in that spot.
Of course, there are the durability concerns, and they're very real. Johnson has just one season of 600+ plate appearances in his eight-year career, missing the equivalent of about four seasons of action. Conditioning is clearly not a strong suit (RIB SHACK! RIB SHACK! RIB SHACK!), and at 31, he's not getting any younger.
That said, this will be the first time in his career he'll be used primarily as a DH. With Mark Teixeira entrenched at first, it's unlikely Johnson will see anything more than defensive spot duty.
The Yankees showed last season that they could protect a frail player by keeping him off the field whenever possible. Hideki Matsui has knees only in theory at this point, and he still managed 28 homers, 90 RBI and a World Series MVP in 2009.
If the template works again in 2010, the Yankees could have another All-Star slotted in at the two-hole. The Johnny Damon vigils will be few and far between if that happens.
Read more New York Yankees news on BleacherReport.com