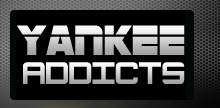 April 4, 2010 · Joseph DelGrippo · Jump to comments
Article Source: Bleacher Report - New York Yankees
Both New York teams have a new starting outfielder on their squads this year.
Both are upgrades over their 2009 counterparts.
The Mets signed free agent Jason Bay while the Yankees pulled off an old-fashioned trade as they acquired Curtis Granderson from the Detroit Tigers in a three-team, seven-player swap.
That trade also involved the Arizona Diamondbacks, and appears to be good for all three teams involved.
Now that both New York clubs have completed their exhibition games all seems healthy on the Mets front—with the exception of Jose Reyes, Daniel Murphy, and Carlos Beltran. Other than those guys on the DL, no other players required the assistance of the Mets team doctors.
That is good, as history has shown that seeing the Mets doctors is one of the worst things that can probably happen to a New York Met in recent years.
Over the offseason, New York Mets fans demanded something be done about their lack of starting pitching depth, but general manager Omar Minaya did nothing. Many fans also wanted a new first baseman and a power hitting left fielder.
Well, they got their wish in left field, but the most important thing, starting pitching, was dismissed.
Bay was given a four-year deal worth $66 million and is now firmly planted in left field. After seeing him in a few games (live and on TV) so far this spring, it can be said that his OF play is shaky.
There is the power in Bay's bat to make up for his below average defense, and he possesses the ability to make consistent contact with the ball.
However, will there be enough power in Bay's bat in new CitiField, the Mets home where deep fly balls go to die in outfielder's gloves?
Ask David Wright how bad the new home park plays. Will Bay's rumored knee problems hamper him during the season in the field or at bat?
Bay had his best year last season (.267 AVG/.384 OBP/.537 SLG/.921 OPS) with 36 home runs and 119 RBI. Not that it was his best season statistically, as his 2005 and 2006 seasons were more productive, but last season's numbers came in his walk year before his first free agency.
That was good for Bay's bank account but bad for the Mets overall.
Meanwhile, Granderson was coming off his most dismal season since becoming a full-time player. His 2009 line of .249/.327/.453/.780 continued its steady decline over the last few seasons.
His best year was in 2007 when he hit .302/.361/.552/.913 with 38 doubles, 23 triples, 23 homers, and 74 RBI. He also walked 52 times.
But his on base percentage and slugging percentage declined over the last two seasons, mainly because his average dropped, and while his homers increased to 30 in 2009, his other extra base hits declined significantly.
C-Grand's SLG of .552 in 2007 was due to his 38 doubles and 23 triples as much as his HR total.
As those same extra base hits declined to 23 and eight last year, his average dropped too. Overall, his OBP and SLG (and of course OPS) fell to these extreme lows. His OBP fell despite his walk totals increasing from 52 in 2007 to 72 last year.
Just goes to show that high batting averages are still a key to high OBP. A walk is NOT as good as a hit unless the team has other hitters in the lineup.
Granderson has worked hard with hitting coach Kevin Long to improve his overall hitting, such as going the other way to improve his recent numbers against left handed pitchers.
Their work showed as his batting average improved to .286 in spring training this year and his OBP boosted to .375, two stats the Yankees signed on the dotted line for this season.
He also improved against lefties with a .250 AVG this spring, and after the first week, appeared more comfortable at the plate.
The one negative for Granderson is that he did not hit a home run at all this spring and his SLG was only .388. That will improve, though, once Granderson gets to Yankee Stadium's short right field porch. He will not pull as much as in the past, but he will hit his share of home runs, probably around 20-25.
While that might be much lower than people expect, Granderson's SLG will be much higher than last year. While his HRs will be normal, his other XBH will improve to reflect his 2007 season.
Granderson's work with Long will allow him to love the deep left field gap. With his speed, doubles and triples will skyrocket, and subsequently his slugging percentage will rise to that of 2007, somewhere around .530 to .550.
Jason Bay will also hit his share of home runs, but due to the expansive home park, it will not be the 30-plus he hit in four of the last five seasons. His doubles rate will also decline as those balls off the Green Monster will be caught by the left and center fielders in the more spacious ballpark where he'll play half his games.
Bay is expected to hit fourth or fifth in the lineup, a lineup that does not scare many pitchers.
Don't be surprised if teams begin to pitch around Bay to get to the free-swinging Jeff Francoeur. Once again, a walk is not as good as a hit, if there are no other good hitters to produce.
Therefore, Bay's OBP may be higher, but his SLG rate will decline from last season's .537.
With the type of player each guy is, and with the dimensions of CitiField, wouldn't Granderson have been a better fit for the Mets as their left fielder?
He could have even been the center fielder while Beltran is out.
For Minaya, another boat left the dock without him doing anything or having a plan, and he appeared to settle in the whims of the public in regards to what his team needed.
When all is said and done in 2010, Granderson will be more important for the Yankees than Bay will be for the Mets.
In fact, with his new hitting approach, C-Grand will have a higher SLG rate this year than Jason Bay.
You can bank on it.
Read more New York Yankees news on BleacherReport.com