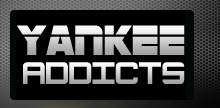 April 6, 2010 · Bronx Baseball Daily · Jump to comments
Article Source: Bleacher Report - New York Yankees
Last week we got a look at both the Scranton Yankees and the Trenton Thunder roster, well moving on down the line we get the 2010 Charleston RiverDogs roster today.
It's not technically official yet, but Robert Pimpsner of Baseball Digest passed along this roster out of the RiverDogs media guide:
PITCHERS
RHP Griffin Bailey
RHP Manuel Barreda
RHP Sean Black
LHP Gavin Brooks
RHP Caleb Cotham
RHP Ryan Flannery
LHP Shaeffer Hall
RHP Dickson Marquez
RHP Ronny Marte
RHP Kelvin Perez
RHP Jose Ramirez
RHP Wilton Rodriguez
LHP Francisco Rondon
RHP Graham Stoneburner
INFIELDERS
Carmen Angelini
Garrison Lassiter
Robert Lyerly
Luke Murton
Jose Mojica
Jimmy Paredes
OUTFIELDERS
Zoilo Almonte
Kelvin De Leon
Taylor Grote
DeAngelo Mack
Justin Milo
CATCHERS
Buck Afenir
Jeff Farnham
Kyle Higashioka
J.R. Murphy
Thoughts:There are certainly some interesting names to watch on this list, but personally I like the talent on the Trenton Thunder roster slightly better. Still, with prospects like Jose Ramirez, Graham Stoneburner, and Caleb Cotham in the rotation and Kelvin De Leon, DeAngelo Mack, Kyle Higashioka, and J.R. Murphy in the lineup this team is not one to brush aside. They have talent and these are players that could be in the Bronx in about two years.
There are even a few sleepers on this team that with big years could make a bigger name for themselves within the organization. Justin Milo is one off the top of my head. Milo has been a marginal prospect in the past, but for the first time he won't be playing college hockey and that specific focus on baseball could do him some good.
Related Stories
Read more New York Yankees news on BleacherReport.com