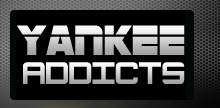 October 15, 2010 · Kate Conroy · Jump to comments
Article Source: Bleacher Report - New York Yankees
On Monday night up in the Bronx, fans will crowd into Yankees Stadium with pits in their stomach.
The Yankees will be returning from Texas for Game 3 in the ALCS, and for New York Yankees fans it will be the first one played at home.
An ideal homecoming for the Yankees would be a 2-0 lead on the Rangers, before facing the surreal arm of Cliff Lee Monday evening.
Is this realistic?
Yes. The Yankees are the better ball-club. It is the Yankees ALCS to win or lose.
Here are top three reasons why:
1) The Rangers made it to the ALCS, but Cliff Lee beat the Rays. Game 5 of the ALDS, Lee pitched better than ever. The fact that Lee is slated to start on Monday night in New York is a huge mistake by skipper Ron Washington.
It gives the Bombers an open door to win the first two games and with that newly found Rangers confidence will be squashed upon entering the Bronx. The Yankees know they have capitalized this gift. What the Twins couldn't do, the Rangers can and that's to come out swinging with Lee in Game 1.
The Yankees get pretty scary and will shake that confidence right out of Texas that could cost the Lone Star state the series. It's a lot of pressure for CJ Wilson to carry, considering he was a closer till this season and the Yankees killed him as a starter.
2) The Rangers have Josh Hamilton and Michael Young, but Hamilton is the team's leader who has been broken ribs and he sat most of the last two weeks of the season.
When Hamilton is hitting the line-up responds and against Tampa he was a non-factor. This is a problem in games that are not started by Cliff Lee, as the Rangers closer Neftali Feliz has been shaky lately and the Yankees will crush the rookie's arm.
The Rangers line-up is good, but the Yankees across the board have the most lethal line-up in baseball.
3) Experience is relentless in the postseason, which the Yankees have more than anyone can swallow. Texas is in its first ALCS in franchise history. Yankees players who are rusty in age know what to expect and how to win, which is a total advantage. Rangers need Vladimir Guerrero and Bengie Molina know the Yankees veterans from when they were Los Angeles Angels.
The Angels were the only team New York feared up until this season, Molina and Vlad were major contributors back then and if they can lead by example. It might help in making up for Washington's managerial mistakes.
Read more New York Yankees news on BleacherReport.com