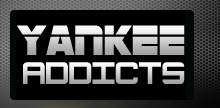 October 11, 2010 · Jess K. Coleman · Jump to comments
Article Source: Bleacher Report - New York Yankees
If it weren't already evident that AJ Burnett's big long-term contract was dictating the decisions made by the Yankees front office, it is now.
After the Yankees cruised through the American League Division series with just three starters, the Yankees announced Monday morning that they will use a fourth starter in the American League Championship series. That fourth starter will be AJ Burnett.
Yankees fans have never been fed up with a pitcher more than they have AJ Burnett. And for a good reason. This season has been a disastrous one for the 33-year-old, and that is just one of the many reasons why this decision makes no sense.
First off, if the Yankees feel they need a fourth starter, why didn't they initially have one in the divisional series? Furthermore, there was no evidence in the ALDS that a fourth starter was needed. After all, they never lost a game.
The Yankees have almost a week off between the last game of the ALDS and the first game of the ALCS. That rest will make it even easier for all the starters to get back into shape, especially CC Sabathia, who would potentially pitch three games.
If you insert Burnett into the fourth spot in the rotation, CC Sabathia would pitch Game 5, eliminating the possibility of him pitching a possible Game 7. If you can't throw your ace in Game 7, you have something to worry about.
Then, there is the simplest argument of them all: Burnett is not the best the Yankees have. Even if they believe that a fourth starter is necessary, Burnett is not their best option.
With a 5.26 ERA on the season, and a 7.94 ERA in his final three regular-season starts, Burnett should be out of contention for a starting spot. The Yankees mistakenly left Ivan Nova and Javier Vazquez off the roster, but they still left Dustin Moseley.
Now, of course you would not be comfortable putting Moseley on the mound in the ALCS. He, too, has an ERA of almost five, and he has never started a postseason game. However, as bad a case as Moseley has, Burnett's is worse. Bottom line: neither Burnett nor Moseley is fit for a postseason start, but if you really feel you need a fourth starter, Moseley would give you a better chance to win.
Although they likely don't believe it, you will surely hear the Yankees sing the same song they have sang all year: "Burnett has great stuff, and he has potential to pitch a great game."
Sure, he has potential to pitch a great game. But so does Kerry Wood, or Mariano Rivera, or Joba Chamberlain, or Kei Igawa. It's the postseason. You need starters who give you a chance to win nearly 100 percent of the time. Burnett is not that guy, regardless of what he can do.
The Yankees made this decision without any regard to winning. They instead made this decision because they are afraid to hurt Burnett's feelings. He will be here for another three years, and the Yankees don't want to upset someone who will likely be essential to their future success.
In the Yankees' history, only one pitcher has finished the season with at least 30 starts and an ERA above five. That pitcher is AJ Burnett. The Yankees have treated him better than ever, regardless of his horrible numbers. They have made sure he is happy and comfortable without any regard to the team's success. That's fine in April, that's even fine in August. But in October, it should not be tolerated.
E-mail me at jess@jesskcoleman.com, follow me on Twitter @jesskcoleman, and check out more at jesskcoleman.com.
Read more New York Yankees news on BleacherReport.com