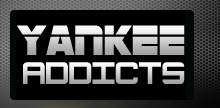 October 20, 2010 · Kate Conroy · Jump to comments
Article Source: Bleacher Report - New York Yankees
Going into Game 4 of the ALCS, the New York Yankees were down 2 games to one to the Texas Rangers.
So, it's understandable how hesitant Yankees fans were to trust the decision of starting AJ Burnett in the most important game of this postseason for New York.
Burnett did okay, better than expected but once again the Yankees couldn't hit the baseball and once again stranding runners on base.
Things hit rock bottom in the fifth inning when Mark Teixeira grabbed the back of his right leg trying to get to first. What might have seemed like a slide into the base was actually Tex in pain that was so bad Tex needed help off the field.
Skipper Joe Girardi said that it would be a miracle if after the MRI Tex would be cleared to play. So, season is over for Mark Teixeira and that will hurt the Yankees at first-base big time. Regardless of Tex's recently ice-cold bat, he was bound to warm up if the team went on to play more games.
The Yankees are not themselves, and handing the Rangers the wins. It is due to lack of production and not playing to their established potential.
Fact remains if both ALCS teams were playing at the top of their game, the Yankees would prevail.
Well, that is not reality for the Yankees but it still can be. Nothing is set in stone just yet, but if the Yankees want to win they have to play.
The Rangers are playing ALCS-worthy baseball right now and deserve to move on to the World Series. It would be a first for the Rangers franchise and nothing is standing in the way of that happening as of now.
If the reigning World Champions want to keep that title, than winning Game 5 on Wednesday afternoon is the perfect and last chance to start playing New York Yankee baseball.
With CC Sabathia on the mound the Yankees should be able to get this series back to Texas.
In sports, you simply aren't considered a real champion until you have defended your title successfully. Winning it once can be a fluke; winning it twice proves you are the best. ~ Althea Gibson
Read more New York Yankees news on BleacherReport.com