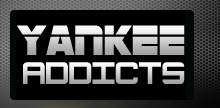 October 16, 2010 · Kate Conroy · Jump to comments
Article Source: Bleacher Report - New York Yankees
The 2010 ALCS is tied at one game apiece.
The New York Yankees couldn't muster together another comeback win last night and the Texas Rangers won 7-2.
Phil Hughes followed in CC Sabathia's footsteps with another not-so-great performance from a Yankees starter. They're human, just like the rest of us, and nobody is perfect.
The postseason isn't built for chances or mistakes.
The Rangers have Cliff Lee on starting Game 3 on Monday night. This gives Texas the clear advantage considering Lee's history with Yankees and in the postseason.
The Yankees are at home with Southpaw Andy Pettitte on the mound. Andy is a phenomenal, but one earned run might be all the Rangers need if Lee brings his A-game to the Bronx.
The game is in New York, which means Yankee Stadium needs to be louder than ever. As a person who will be in attendance Monday night, I hate imagining a silent stadium because the Yankees need their fans more than ever.
Lee is a shutdown, nine-inning pitcher, but the Yankees bats can get him but not alone. It's time to help out our beloved Yankees by cheering like hell until the last out.
This team plays hard to win for New York every game and admittedly, I cannot say the same for the Yankees fans.
It's time for us to get over the high expectations because the players have exceeded those for years. No more bitching about a player's performance because so-and-so makes 200 trillion dollars, or how Joe Girardi doesn't know what he is doing; not going to help, not this Monday night.
Andy Pettitte is pretty darn good himself in the postseason. Pettitte deserves Yankee Stadium to be rocking like never before because this is supposedly the Southpaw's last year in pinstripes.
Let's give back what Pettitte, the Yankees and most importantly Mr. George Steinbrenner have given us, the fans, too many times to count…A WIN!
Read more New York Yankees news on BleacherReport.com